Recently, we went to a Christmas tree farm and picked out the perfect tree for our family. See more about our day
by clicking here
. It was a gorgeous December day and I took the opportunity to take some photographs of the family for our Christmas Card. We ended up having a great day and creating a lasting memory for our family. I love days like that! It always makes me feel so good when I know that we have just created a memory for our kids. That is what life is all about.
I shot some great pictures that day, and I used them to make a really cute Christmas card on
Shutterfly
. I had fun playing around on Shutterfly with all of the different options of Christmas cards. I created four different options, and I let each member of the family vote. There are 5 of us, and it was a pretty easy decision. No fights or tears. Believe me, sometimes it does come to that when we are trying to make a family decision. Thank God this was not one of those!
I received the cards in the mail on Saturday, and they turned out great! Now I just have to get all of them addressed and stamped and put in the mail! I love Christmas cards! Here is the winning card for our family Christmas card this year. The back of the card also has a picture of the kids from behind, holding hands and walking through the trees. It says "We hope you find what you're searching for in 2013". My husband came up with that! What do you think?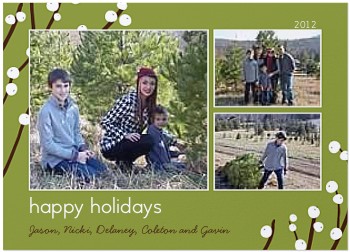 Berry Merry Frame Holiday Card