This post brought to you by Tarkett NA. All opinions are 100% mine.
Part of our home has hardwood floors, part of it has carpet, two bathrooms have ceramic tile, and one bathroom has this old, ugly linoleum from 1996. I have been wanting to rip that stuff up and replace it since we moved into this house, and I have vowed to myself (and my husband about 2,386 times) that this is the summer we will have new flooring in that bathroom. I am bound and determined for this to happen. And I have really been enjoying looking at all of the options Tarkett has for new flooring for my bathroom. Not only have I been perusing for new flors for our downstairs bathroom, but our master bath has ceramic tiles that I do not like, and a few of them are cracked, so I dream of being able to replace them as well.
Tarkett has something called Fiber Floor which is designed with woven fiberglass, foam and tough resistant wear layers that stand up to real-life water, moisture, scuffs, scratches and indentations in a warm, comfortable way. They also have luxury vinyl tile that offers the ulitmate in style and performance. They are available in tiles with-or-without grout, planks, adhered floors and floating floors. Tarkett flooring has over 10,000 retailers across the US. You can check out their closest retailer at http://www.tarkettna.com/locator.
The thing I love about Tarkett is their iSelect, which is a selection of FiberFloor products organized into six easy-to-shop pallettes, where each design compliments the others within that pallette. No matter which floor you choose, it will compliment any other floor within the same pallette. So it is easy to coordinate adjoining rooms. They make it so easy to find a design palette that suits your style!
Introducing the iSelect® System from Tarkett North America on Vimeo.
This is the master bathroom in my house. I have been having such fun playing around with this website, and being able to visualize what my bathroom would look like with many different options. You too can Visualize your room at RoomVue.
My favorite palette for our bathroom is called Evening Receptions. I think it would coordinate very nicely with our plans for this room.
After playing around a bit with RoomVue, here are a couple screenshots of my bathroom with some different Tarkett flooring options. Which one do you prefer? I am going to be painting the vanity grey in the very near future. And the walls and trim are also going to be painted soon.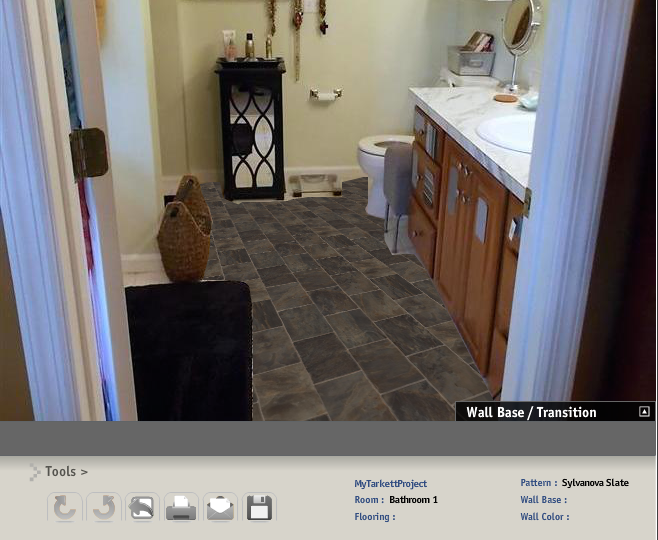 Are you in the market for new flooring? If so, you might have a great time giving this a try! If you do try it and see something you like, let me know in the comments! You can also catch Tarkett on Facebook and Tarkett on Pinterest.