Are you enjoying your Sunday? One of the best things about the weekend is getting up early when everyone else is still sleeping, pouring a nice hot cup of tea, and having some alone time to work on the blog! Today I wanted to pop in and share my Vitality Vox Box with you that I received for free from Influenster for testing purposes.
In case you missed it, you can read about my last TLC Vox Box here. Here is a picture of my most recent Vitality Vox Box.
This is what I received:
Soft Lips Cube
: I really love this product and will definitely purchase it in the future. I received the pomegranate blueberry. It smells and tastes great, plus I love the way it feels on my lips. I also like the shape of it.
Pure Leaf Iced Tea
: I, personally, am not an ice tea drinker. The one I received in my box was an unsweetened. LC jumped on it as soon as he saw it, and claimed it his own. He drank it and he loved it. He said it is his favorite iced tea.
Bikini Ready Energy Gummies
: I received a full size bottle of these, and have been taking 3 in the afternoons. They do give me a noticeable boost in my energy level. They taste similar to any other chewable vitamin. They are a vitamin B12 supplement that also contain caffeine. I do like these, but not sure if I would pay the price ($14.99) to purchase them again.
Elizabeth Arden Flawless Future
: I received a sample size bottle of this. I liked it, but I did not love it. I wish I would have received a full size bottle, because my opinion may have changed with using an entire bottle. I am not sure I used it long enough to receive the full benefits. I did not see any noticeable difference in my skin. I have dry skin, and I did not like the feel of this on my skin. It soaked in too quickly, and I needed more squirts than the usual amount to cover my entire face and neck.
First Degree Advanced Burn Cream
: Fortunately, I have not had the occasion to try this yet. No burns in our house since I received it. Actually what I did with it was add it to Miss 18 Year Old's first aid kit that I made her for her college apartment. So if she or her roommates ever have a minor household burn, she will be able to use it. I was glad I received it because it saved me from having to go out and purchase a burn cream for her.
Playtex Sport Fresh Balance
: I no longer am in need of tampons, but Miss 18 Year Old snatched these right up! I couldn't give them to her fast enough, and I am sure she has used them all by now. She reported to me that they were comfortable and they did the trick. And that is about all you can ask from a tampon, am I right?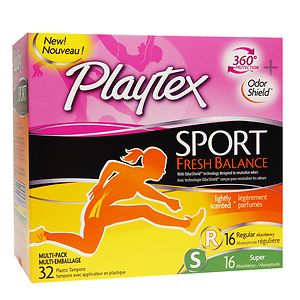 That sums up everything that was in my box. I love receiving these boxes in the mail. they are such a nice surprise! As Forest Gump would say, "Life is like a box of chocolates. You never know what you are gonna get." And that is exactly how I feel when I receive one of these purple boxes on my front stoop. Keep them coming,
Influenster
! and I will keep on sharing them with you!
Have a great Sunday!