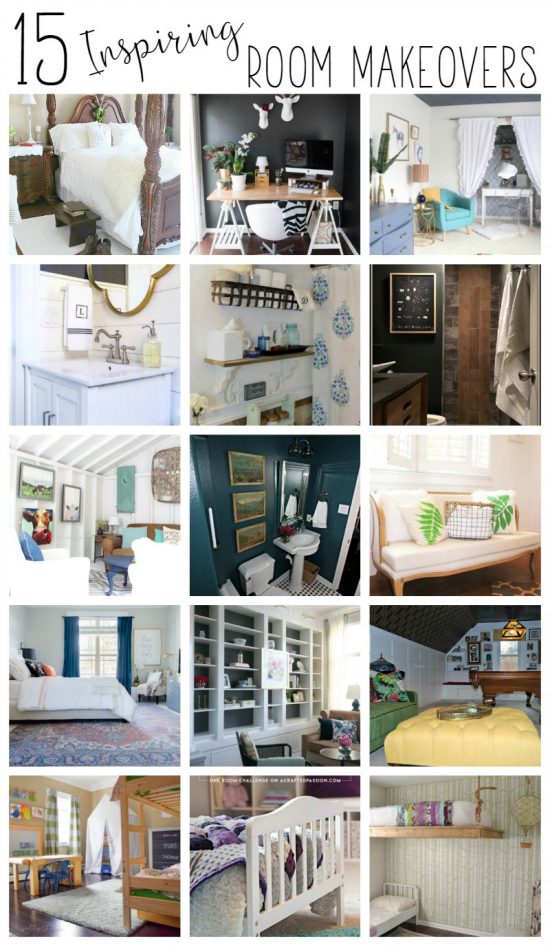 Hey friends! Now that the One Room Challenge is all said and done, I have been trying to slowly work my way around to reading each and every post of all of the participants. And I have figured out that is a daunting task in and of itself! You can find the links to everyone who participated in this 6 week challenge at Calling It Home. I haven't gotten to all of them yet, but it is my goal to read each and every one. A huge thank you to Linda for hosting all of us for this challenge, you are a genius! Today I have a treat for you! I have joined together with some of my fellow bloggers to bring you a round up of 16 inspiring room makeovers from the ORC! No matter what your decorating style is, you are sure to find some inspiration here today. Just click the link below each photo to see the full room reveal. And please be a responsible Pinner and pin from the original source.
Bathrooms
If you read my blog, you obviously know this first one on the agenda is my bathroom! I had to put it first because it would have felt weird to put it anyplace else, ha! I'm seriously in love with the way this space turned out. It is exactly what I envisioned it to be. From the AirStone on the walls to the painted vanity to the mismatched shelves, it is totally me! This room has been dogging me for four years now, and I can't tell you how refreshing it is to walk in there now, or even just to walk by, because I pass this room up every time I walk down the hall.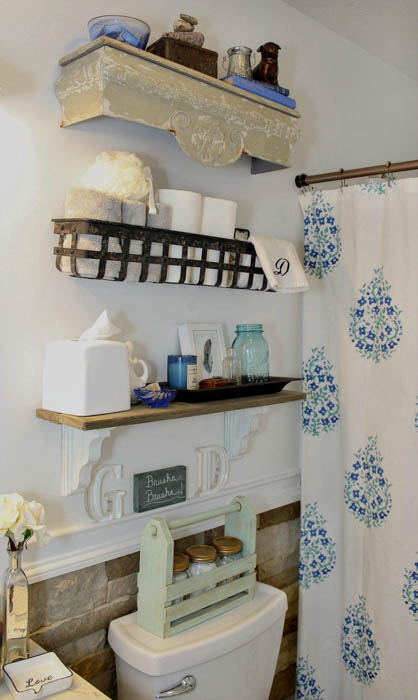 Polished Casual Kids Guest Bathroom
– Sweet Parrish Place
This powder room is by my friend Robin, who is part of our recently formed tribe. And when you look at the before of this room, it doesn't even look like the same room at all. My favorite aspect of the room is the faux cement tiles that she stenciled onto the floor, and you can't see them in this picture. But seriously, you have to click the link and go check out the floors, because they are to die for!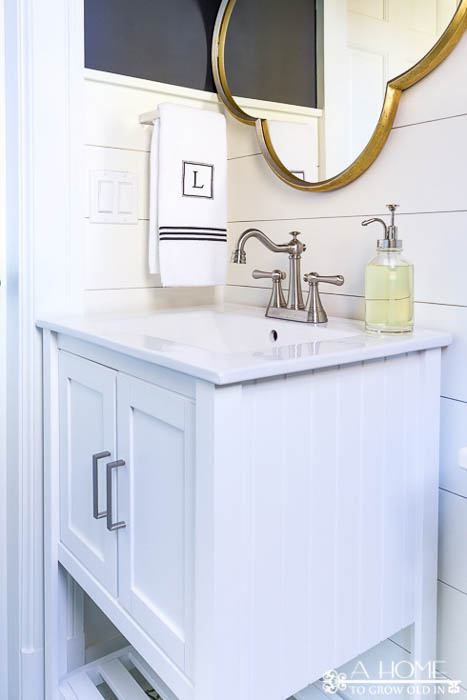 Farmhouse Powder Room
– A Home to Grow Old In
Joy is also a member of my tribe, and she completed two half bathrooms for this challenge! This woman has mad talent and that is no lie! I can't imagine taking on two spaces, but she mastered them both! The dark and moody half bathroom has a wonderful gallery wall that you can't see pictured here, and the lighter powder room upstairs has some amazing marble shelves with a wooden wall that is my favorite part of both rooms. You must see them for yourself!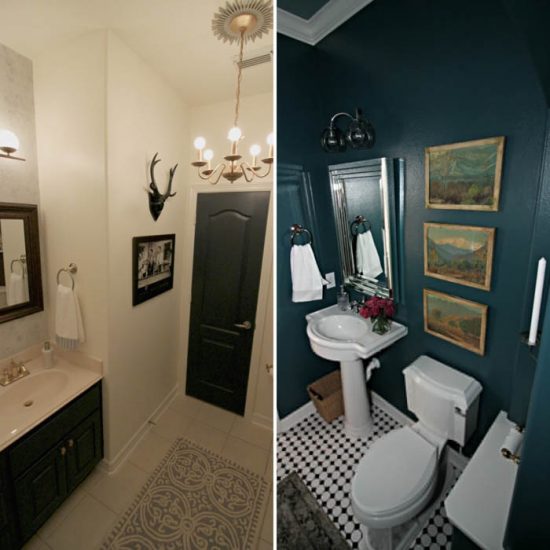 Eclectic Powder Room – The Aspiring Home
Check out this dark and moody spa bathroom by April at Uncookiecutter. It is truly an unbelievable transformation! The before of this space is honestly kind of wretched, but she transformed it beautifully to match their style! It now looks like a beautiful spa retreat, and a space that I would love to take a long hot shower in!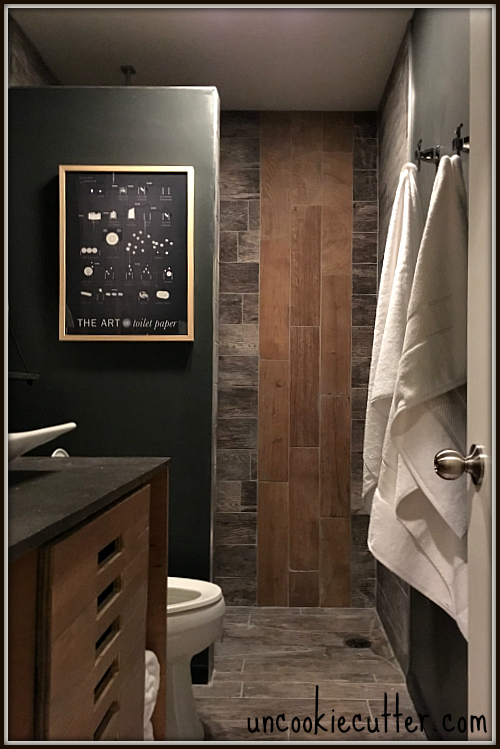 Modern Spa Bathroom – Uncookie Cutter
Bedrooms
This pop art teen bedroom blows my mind! This room is by Jenny, who is also a member of my tribe, and she is the sweetest! Seriously, have you ever seen something so creative? And she made the bed herself. She is a very talented artist, all of the art on the walls is painted by her, this is not wallpaper! I'm seriously blown away. Talent is oozing from every square inch!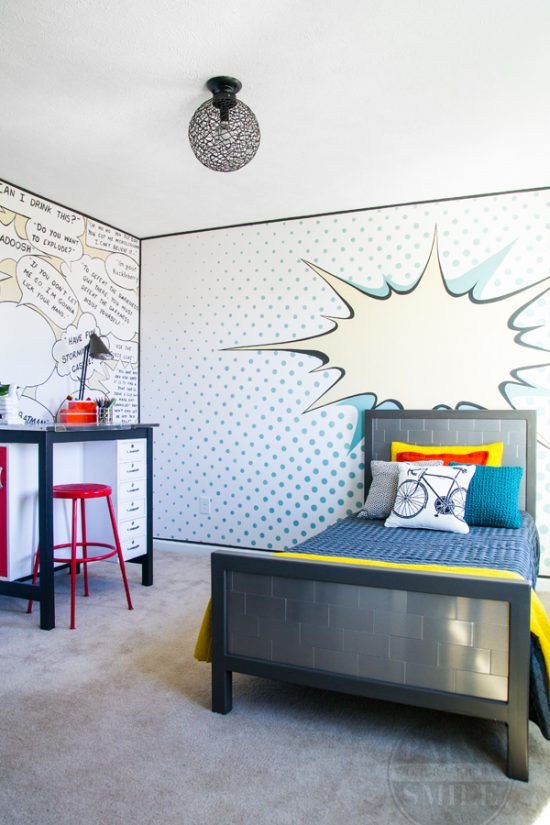 Amanda made this bedroom for her two year old daughter because they have another baby on the way! There is so much to admire in this space, but my favorite is the giraffe growth chart she made, you have to see it for yourself!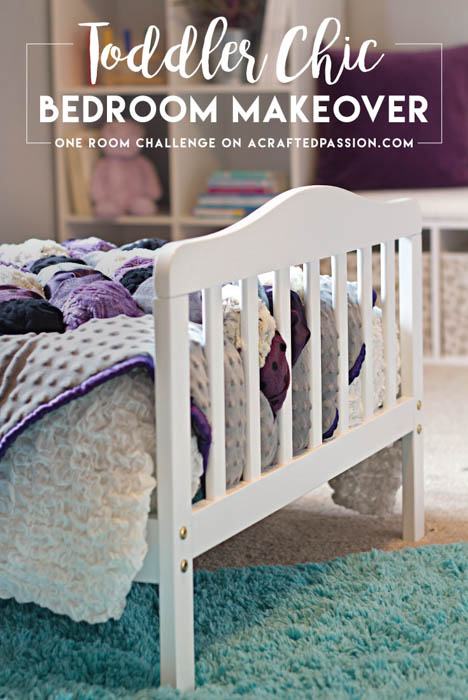 Toddler Chic Bedroom
– A Crafted Passion
This farmhouse master bedroom by BonBon (that's her nickname, and I totally dig it- we need to be friends so I can say it on a regular basis) is dreamy! She made a barn door leading to the master bedroom, and I think it makes the room! She also has a really pretty chair makeover that you just have to see!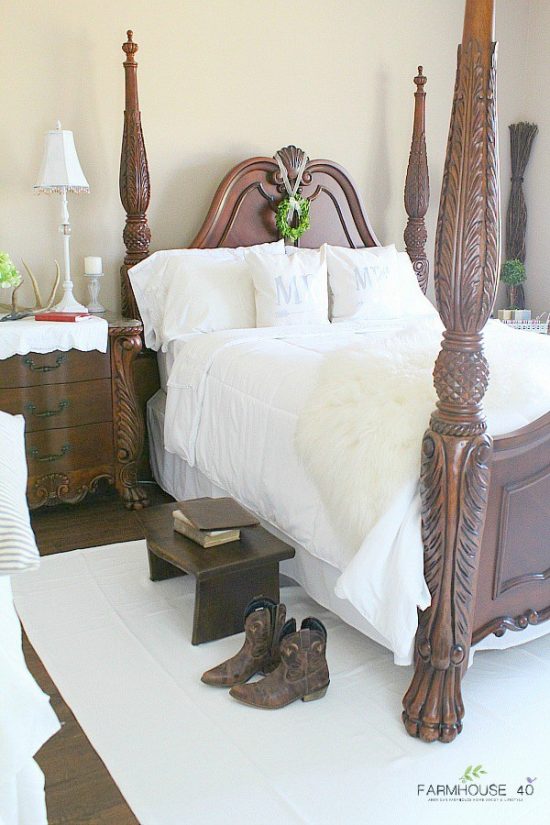 Farmhouse Master Bedroom – Farmhouse 40
Sarah knocked it out of the park with her shared boys bedroom! You have to see the brick fireplace that is original to the space! I love the striped curtains, and that tent? Soooo cute! What a fabulous room for her growing boys!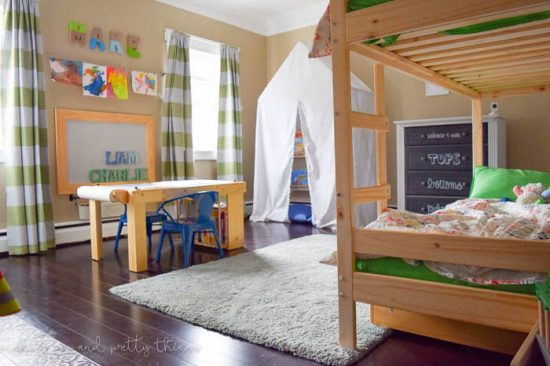 Linda's master bedroom turned out so pretty! Actually I didn't think the before version of this room was bad at all. But the after knocks my socks off! I love the blue she chose for the dresser she painted. There is just something about blue that I have been loving lately (as evidenced by the use of the color in my own ORC bathroom). I love the rug, I love what she did with the nightstands too! I love every little detail in this room that she lovingly created. I am now inspired to paint my matchy matchy bedroom furniture!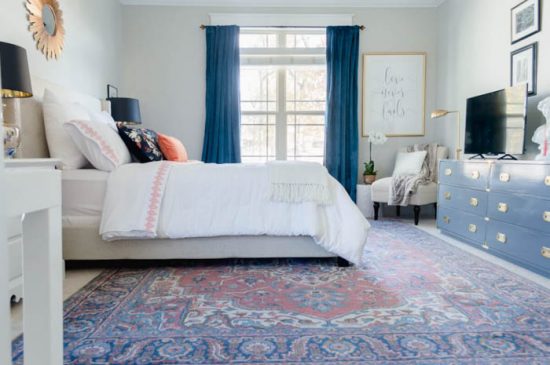 This shared girls bedroom by Jenny is soo adorable! She made that loft bed and it is just so creative and cute! What a creative way to get two beds into a small space, I just love this idea! The little reading corner she created is adorable as well, and that accent wall is so pretty!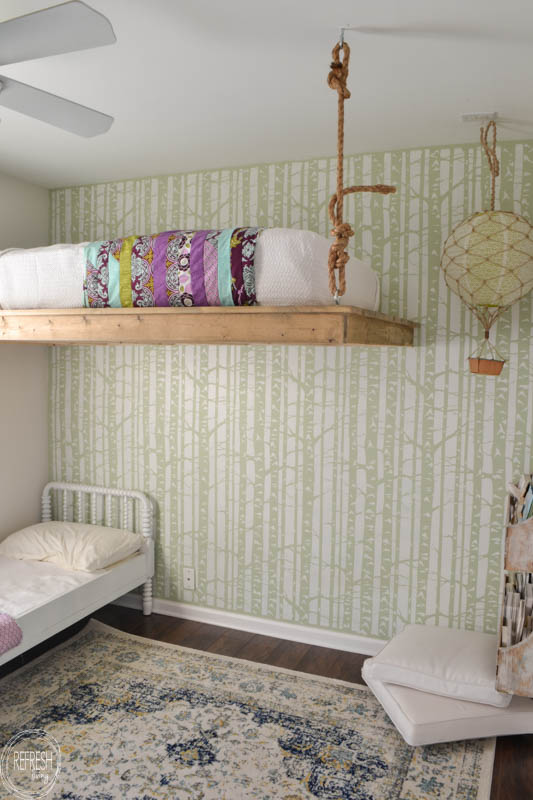 Eclectic Vintage Girls' Shared Bedroom
– Refresh Living
This teen hangout room/bedroom by Amy is the type of room a girl dreams of, am I right? I can't say enough how I love the dark color on that ceiling, it makes the space! I love the little nook she created with the accent wall inside! But I think my favorite part is how she used her daughter's equestrian team ribbons, but you will have to click over to her blog to see that for yourself!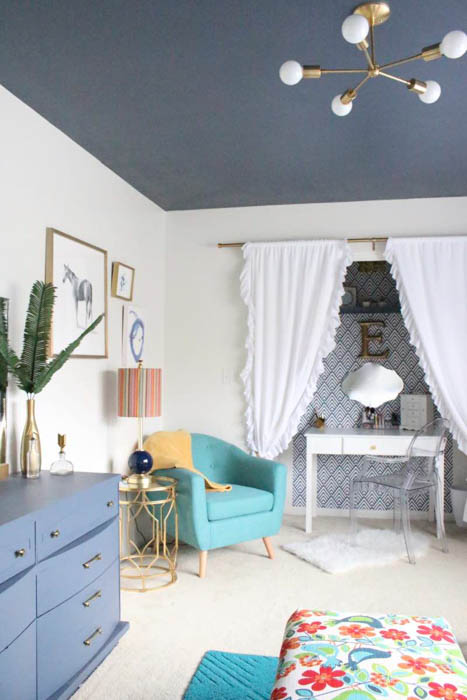 Modern Teen Hangout – My Life From Home
Living Spaces
Colette did such a great job with this glam formal living room! I am swooning over those built ins, and that blue area rug just tops everything off perfectly! This room is right off her entry, and what a great first impression!

Glam Formal Living Room – Restyle it Wright
Honestly, this next space is the space I am most jealous of- a she shed!!! I need one of these in my life, pronto! Although I would use mine as more of a work space to house all of my hoarding tendencies for future projects, I think. But what the mother daughter team of Jennifer and Vicki did with this space is nothing short of amazing! What a great place to entertain too! They call it The Hive, and it is buzzing with farmhouse glam!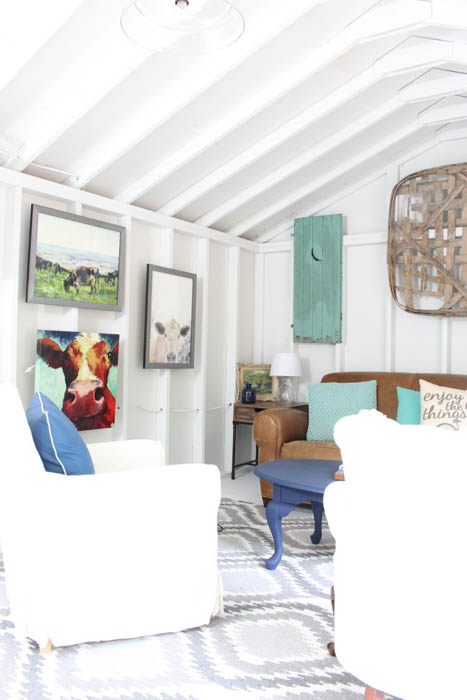 She Shed Makeover – 2 Bees in a Pod
Look at this awesome game room! Kim outdid herself with this space. You have to hop over and see the before pictures to fully appreciate it. She used bold, bright colors like the green sofa and hot pink on the benches, which I think mesh surprisingly great together. And wallpaper on the ceiling!?! That girl is fearless. It looks amazing though! It is a unique and colorful space that I would love to hang out in.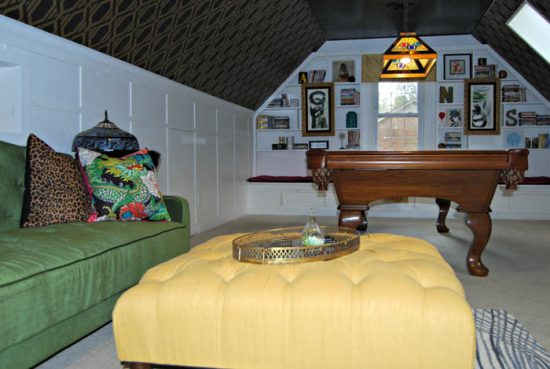 This laundry room/office space by Maria is so pretty! My laundry room is in a closet and my office space is in our dining room, and I would absolutely love to have a space like this! We plan on moving in the next few years, and fingers crossed! The way she decorated this space is so pretty, and the DIY lighting she created with an antique shutter is just stunning.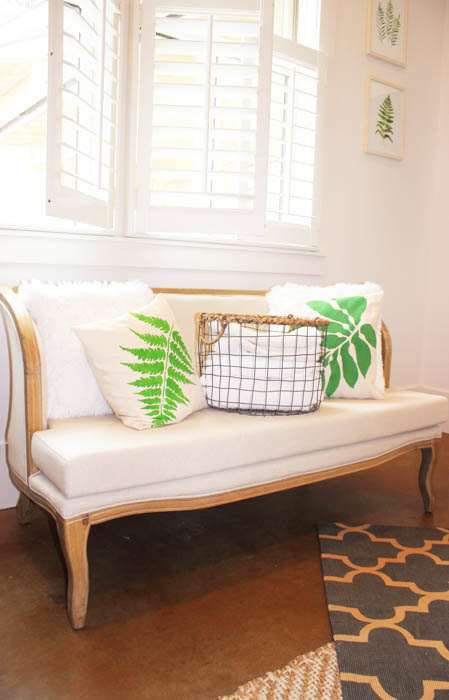 Brittany created this gorgeous multi use space right off of her kitchen, which is kind of all one big room. And I think it is a great use of space for them! I am a plant loving girl, so I love her use of plants and the way she decorated the planters so artfully. She uses a black accent wall here and I think I'm in love! My son used to have a black accent wall in his old bedroom that is now my daughter's, and this wall is making me miss it, so I might just have to find a space to add one again!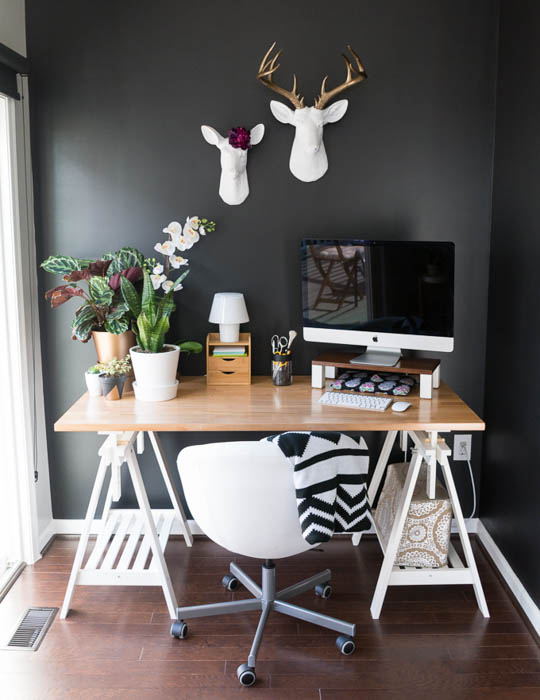 You can see hundreds of other amazing room makeovers, completed in only 6 weeks, completed as part of the
One Room Challenge at Calling it Home
. What do you think of the spaces I shared here today? Come on, at least tell me your favorite! You can leave a comment below, and I love to read and respond to your thoughts. I hope you were inspired by these fantastic makeovers today, and maybe you even discovered an awesome (or 15) new blogs that you hadn't seen before! I'll meet you back here on Friday with an awesome gift wrapping blog hop to help get you ready for the loads of Christmas gifts you are soon to be wrapping!
amzn_assoc_placement = "adunit0";
amzn_assoc_search_bar = "true";
amzn_assoc_tracking_id = "sweparpla0c-20";
amzn_assoc_ad_mode = "manual";
amzn_assoc_ad_type = "smart";
amzn_assoc_marketplace = "amazon";
amzn_assoc_region = "US";
amzn_assoc_title = "My Amazon Picks";
amzn_assoc_linkid = "a17dcce74aa4e88314dd0fdfec76787f";
amzn_assoc_asins = "B0189YVQG0,B01GDSV6WI,B01D1MNZ2I,B00ZC4OGT0,B015VZGWBO,B00EV5E76I,B013FAV7IA,B00MX3QQ2S,B00RZMQG9A,B001FBDC3U,B00QTXI5LS,B00RPZ3KW8,B0033AHK3Y,B00ZNNB1JS,B00AMTO7VM,B01J06YKBE,B00LDSKT6I";
Do you have champagne taste and a tiny budget like me? Love fashion, DIY, crafting, all things vintage and thrifty? Stick with me, I've got you covered!
Sign up to get my posts delivered to your inbox here
Facebook
/
Twitter
/
Instagram
/
Pinterest
/
Bloglovin
/
Google
+ /
Stumbleupon
Click here for a list of weekly link parties where you can find me partying away!