On June 17th My life was forever changed.  Well, maybe that is a little dramatic, ha!  Maybe my life didn't change, but my makeup certainly did!  Forever!  I didn't seek out this change, I didn't plan it.  As a matter of fact, I didn't even realize how much I needed it!
Let me explain.  Back in June I received a random email from Alexa at Collectively, asking me if I would like to try bareMinerals bare Skin Liquid Serum Foundation.  I would receive a complimentary product to try, and write a review for.  Well, it took me about 5 seconds to reply and say yes, of course!  What woman wouldn't agree to this sweet deal?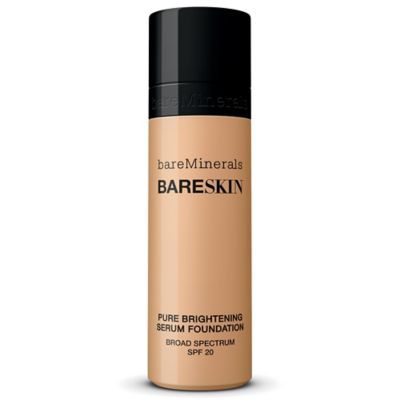 So, a couple of weeks  later my product arrived in the mail.  Not only was it a full size bottle, but also a very nice full size application brush, specifically designed for this foundation.  It is called the perfecting face brush.
It took me a few days to get around to trying it, because I really didn't go anywhere but the pool.  But when I did try it, I was literally amazed at the results!  I am not kidding people!  This foundation is by far the best foundation I have ever tried.  I could not believe my eyes.  I usually apply my foundation, and then get to work on my concealer- applying it under my eyes, on both cheeks to several problem areas.  I have a few broken capillaries on both cheeks and under my nose.  With this foundation, my need for concealer was almost completely gone.  The only place I needed it was under my eyes.  It was magical!
Let me tell you a little about bare Skin Pure Brightening Serum Foundation Broad Spectrum SPF 20.  It is liquid foundation done differently.  No oil.  No silicone.  No water.  No parabens.  No fragrance.  Formulated with bare minimum ingredients without sacrificing benefits, this ultra-thin, weightless fluid harnesses jojoba-coated mineral pigments suspended in a coconut-derived base.  Combined with a potent blend of vitamin c and supercharged lilac plant stem cells, this good-for-you formula is a clinically-proven tone-correcting mineral foundation and brightening serum in one.  And it is available in 20 skin-loving shades.  It also delivers seamless, adjustable coverage and a noticeably brighter, more youthful appearance.
Now, I am not an expert on taking before and after pictures of my own face, but I tried to show you what my face looks like with no makeup whatsoever, and then after I have applied my makeup using this foundation.  This took guts people.  How many 43 year old women do you know who want to take close up pictures of their face with no makeup?  Not me!  OMG, I can't believe I am doing this, but here goes!
This is me with no makeup.  I decided to pull my hair back so that all you will be really looking at is my face, not my hair style.
This is me after applying the bare Skin Foundation.  I applied around 4-5 drops.  Already a very noticeable difference in my opinion!  This is with no concealer!
This is me after applying the rest of my makeup.
It took me awhile to perfect the application of this product.  What you do is shake it up, then squeeze anywhere between 1-6 drops of it onto the brush, and buff it on in a circular motion.  Here is a link to a video you can watch of someone applying it: 
bare Skin application process
This is me that same day after getting ready completely, just in case you were wondering.
Here are a couple more pictures of me wearing this foundation.  This was the night of LC's 40th birthday dinner, after being in the rain and sitting outside on the deck while it was pouring down all evening.
And I made a little pinnable graphic of the before and after of this foundation.
Yes, I received this product to review for free.  Great perk of being a blogger BTW!  But my opinions of this product are completely my own.  I am telling you right now that I will be a user of the product for the rest of my life.  It is more expensive than my old foundation, but it is totally worth the money.  This product can be bought online at the
bare Minerals website
, and also at
Sephora
, Sephora inside
JCPenney
,
Ulta
,
Macy's
, and
Dillard's
.
And just a little message to the geniuses at bare Minerals.  If you want to send me anything else to review, I would love to try it.  I am guessing I will like more of your products, because this is one of the best skin products I have ever tried.
Get Social with bare Minerals: