I am a pretty organized person.  We moved into this house in June, and if you read my blog regularly, you already know that we gave up a ton of storage by moving into this house.  And our master bathroom was no exception.  I used to have a big floor to ceiling cabinet, three large drawers, and cabinet space under the sink.  Now, I have 6 drawers, and a cabinet under the sink.  I am a product junkie, I am not gonna lie.  I was forced to do a major product purge when we moved in.  Since then, I have purchased a small two shelve cabinet for our bathroom which holds our bath towels.  But I still would like to add some big shelves to one wall for more storage.  I picked up for little storage bins in the dollar section at Target recently and decided to use them to organize one of the drawers in our bathroom that was seriously in need.
This black cabinet that I purchased at Marshall's holds our bath towels.  Keep in mind that this bathroom has had nothing done to it since we moved in.  I do have plans to upgrade this room eventually though.
You can see more pictures of our master bathroom
here.
Here are the contents of this little drawer after I took everything out and dumped it on the counter.  These are all of our skincare products that we use on a daily basis.  And in the upper left corner of the picture you can see the 4 small bins I purchased.  It cost me $2 for all four of them, and they are the perfect size for this drawer.
And here is the chaos from another angle.  Sweet!  (Check out that lovely vanity top!  Gotta love pink swirls)
And here is is post organization!  Such a welcome change!
2 bins for me, 2 for Mr. LC.  I think it is obvious which are which.  One of my bins contains my small skin care products that are a part of my daily beauty routine.  The other contains some medications I take every morning, and a few small travel size skin care products.  The other two contain all of the things Mr. LC uses for shaving and skincare.  You can also see that my makeup bag fits perfectly in the back.  I use this bag to throw makeup into if I am late for work.  If I am running late I throw in my makeup and just take it with me and apply it as soon as I get there, or as soon as I have a spare moment.  There are a couple of coasters in the back that I use if I have a drink on the counter, a couple of LC's deodorants that are too big for a bin, and a couple of my facial moisturizers and my facial cleanser that are too large for a bin.
Not bad for 2 bucks, huh?  And it has made my daily routines a lot easier because everything has a place and I am not rooting around in there searching for what I need.  Plus our stuff is not all mixed up.  I am going to do the other drawers soon.  They aren't as bad as this one was.  I already have some bins in them.
Have a great weekend everyone!  Tomorrow night is the night LC and I are celebrating Valentine's Day.  No kids!  That doesn't happen very often in these parts.  That also means that we get to sleep in on Sunday with no Mr. 5 year old waking us up way too early wanting special pancakes.  Love the little guy more than words, but Mama needs a break once in a while!
I am linking here: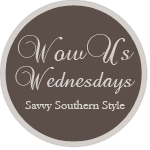 Wow Us Wednesdays