How is your Monday turning out?  Hopefully it was better than mine.  I started back to work this morning after being off for the past 6 weeks.  That is always tough for me.  I shouldn't complain, after all at least I do have my summers off, right?  I am very grateful for that, trust me, but it is difficult to get back into the swing of things.  One thing on my to do list that I did get done before my break was over was to paint our front door black.  So today I am going to be showing you the end result.  My entry way is a work in progress, but this is a start.  I painted my back door in my kitchen the same color back in April.
I used Behr Premium Plus  satin enamel in the color broadway.  It took three coats.
At first, I debated on whether to paint the side windows or leave them white.  This is what they looked like white.
I left it this way for a few days, but every time I walked by, those widows seemed to be calling to me, "We want to be black too!"  It just looked off to me.  So I decided that black was the way to go!
There!  doesn't that look better?
I also painted all of the trim a glossy white.  I used the same trim color I have used in the
kitchen
,
dining room
, and
downstairs hallway
– crisp linen white by Behr.  I plan to use it throughout the entire house eventually.
I really like the way the doors look painted black.  It is so much more practical than a white door, at least in my family!  I was always wiping down the doors because of dirty fingers.  Now it doesn't show dirt!
This is the whole thing before I painted it.  See the stair rails?  The wooden parts of the rails are going to be black as well.  And the rest will get a fresh coat of white.  Someday…
And here is a side by side of the before and after.  I am very happy with the end result.  What do you think?
Have you tried the trend of black doors yet?  I am telling you I am hooked!  I want to paint every door in my house!  And I probably will, one at a time!  This entry way is a work in progress, we still need to paint the walls, paint the faded landing (I have a cute pattern I plan on painting and distressing in this area), paint the banister, and change out the area rug.
In case you don't know, we are going to be hosting a foreign exchange student from Sweden for a couple of months, and she is arriving on Friday!  We are all a flutter trying to get ready for her, and we are super excited!  I have made a decision for now to cut down on the number of times I post per week because having another teenager in the house is going to make me super busy.  So I will only be posting 3 times a week for a while.  Hopefully this will give me some extra time and the posts I do put out there will be of a better quality, rather than just something I threw together on the fly.
Enjoy your week!I am linking up here:

http://thededicatedhouse.blogspot.com/2013/08/make-it-pretty-monday-week-61.html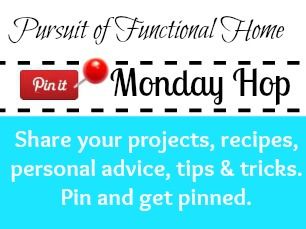 http://pursuitoffunctionalhome.com/2013/08/live-pin-it-monday-hop20.html

http://www.homemakeronadime.com/2013/08/creative-bloggers-party-hop-122.html

http://betweennapsontheporch.net/a-sweet-bird-girl-in-the-garden/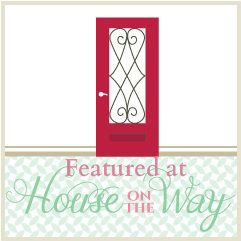 http://www.houseontheway.com/twirl-take-a-bow-party-52/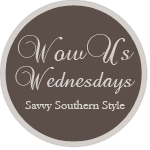 http://www.savvysouthernstyle.net/2013/08/wow-us-wednesdays-130.html
http://houseofroseblog.com/inspire-me-please-weekend-blog-hop-22/

http://shabbynest.blogspot.com/2013/08/frugal-friday_8.html

http://diyshowoff.com/2013/08/11/that-diy-party-29/

http://thriftydecorchick.blogspot.com/2013/09/september-before-and-after.html