It's Friday! I am so glad Friday is here, how about you? By the end of the week, I am always exhausted, and I call Friday after work my big nap day. Mr. 5 year old and I usually cuddle up and take a nap after school. Not today though. My daughter is in her high school's production of Legally Blonde. They opened last night, so I will be seeing that play 3-4 times before it is over. Tonight, I am serving as an usher. So, wish her luck!
I have had a couple of plates sitting around here that I wanted to hang for a about a month now. Well, over the weekend I finally got them hung, without buying anything to hang them with! Sometimes I really impress myself, ha! I have seen several methods for hanging plates on different blogs. So I decided to try hanging them with what I had. These are the plates I hung.
I used some left over fabric scraps, a paper clip, and a hot glue gun.
I cut a square of fabric, then I folded it in half. I hot glued the bottom half to the plate, then I stuck the paper clip on the inside of the folded fabric, put hot glue all around the edges, stuck the paper clip right onto the top edge, and folded the second half over into the glue I made sure enough of the paperclip was sticking out to hang onto the wall. After I folded the fabric over the paper clip, I put a dollop of hut glue right at the top Just for good measure.
This way of hanging a plate on the wall is so much cheaper than actually buying something to hang them with. I am so glad I tried it! It didn't cost me a dime. Have a good weekend!
I am linking up here:

DIY Showoff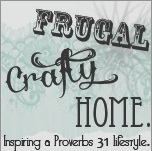 Carrie This Home