Disclosure: This shop has been compensated by Collective Bias, Inc. and its advertiser.  All opinions are mine alone. #PurinaONEVisibleDifferences #CollectiveBias
We are sharing our dog's 28 day challenge with Purina ONE® Dog food, this is our experience with the switch and what we have noticed.
Hey friends!  I'm here today to introduce you to our dog, Tyson for short, his full name is Tyson Chicken Nugget, and he is a 2 1/2 year old Pug.  I have made lots of mentions about him on the blog, and I share photos and videos of him frequently on Instagram and in my Instagram stories.  We recently decided to take the Purina ONE® 28 Day Challenge and switch his dog food.  Changing your dog's food can be a little scary, so I am here today to tell you all about our dog's 28 day challenge with Purina One®.
This is our dog Tyson as a puppy, shortly after we brought him home.  I have to be honest, I was never much of an animal person.  I was never a huge fan of dogs because I had some scary interactions with a neighbor's doberman pincher as a child, so I had some fear from that.  But we decided to get a dog for our children, and I am now in love with a dog, who would have guessed?  I mean, who can resist this face?

Take the Purina One 28 Day Challenge
Take your pet from "good" to "great"! With Purina ONE®, you could see visible differences in just 28 days—like strong teeth, vibrant energy, sparkling eyes, and a radiant coat. Make the switch today and save on Purina ONE® when you register for the 28-Day Challenge at www.walmart.com/purinaone. What differences will you see? Visit your local Walmart to redeem your offer and realize your pet's potential.
Save on ONE (1) 2.8-lb. or larger bag of Purina ONE® SmartBlend® Dry Dog Food, any variety, or 2.8-lb. or larger bag of Purina ONE® Dry Cat Food, any variety. While supplies last.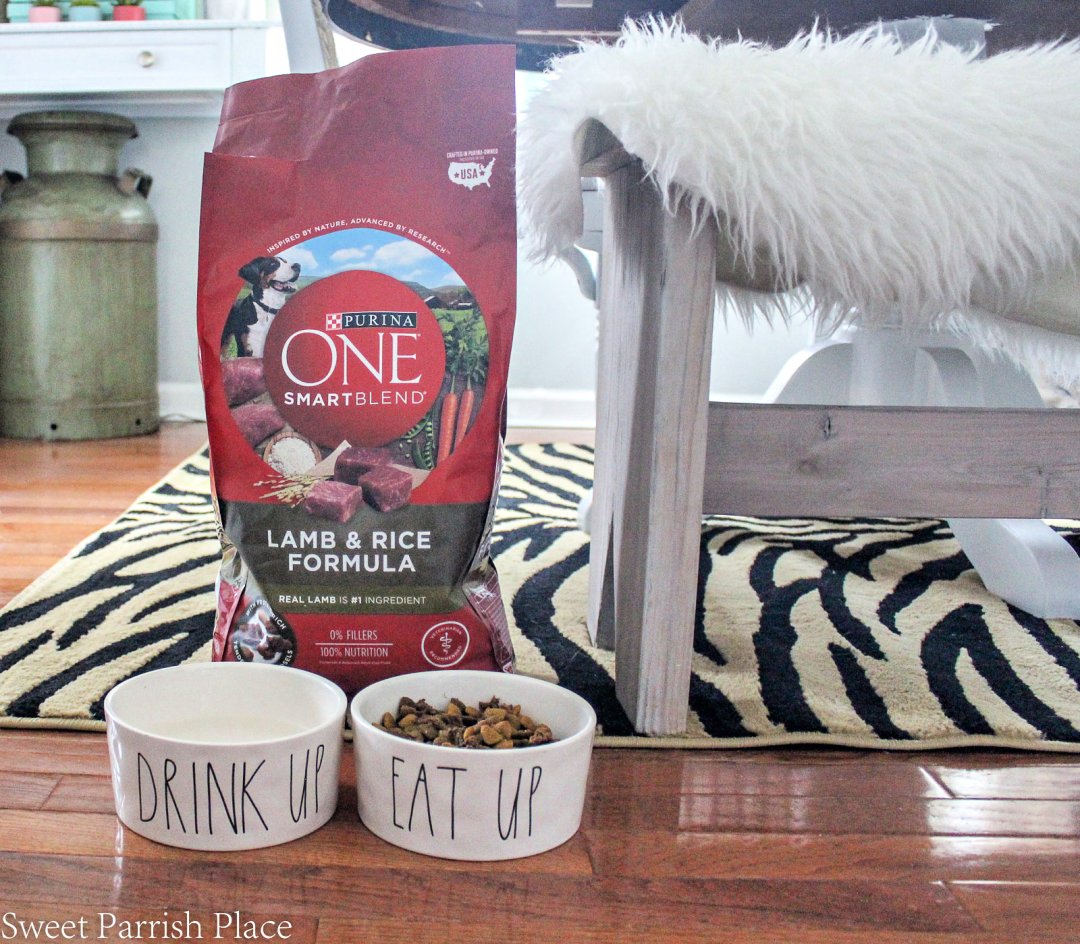 You can hover over the above image and shop for the Purina One® Dog food that is picture
At around the same time we were considering this switch, Tyson had an annual veterinarian visit, so we discussed this with our vet.  He highly recommended Purina ONE® to us, which helped us to make this decision to do a switch.  We waited until we finished all of the previous food, and then we made the switch almost two weeks ago.
The particular food we chose to switch Tyson to is the Purina ONE® Lamb & Rice (8 lb. bag).  We found it right on the shelf at our local Walmart store.
Starting with Tyson's first full bowl of Purina ONE® dry dog food, we noticed more excitement around mealtime, thanks to the crunchy bites & tender, meaty morsels that help keep him coming back meal after meal. (excluding sensitive systems formula).
The SmartBlend of nutrition in every bag of Purina ONE® helps support healthy energy in dogs. We began noticing Tyson wanting to play more often and he seemed to be happier overall. Your dog's vitality level may be enhanced by the high-quality, complete & balanced nutrition of Purina ONE®, made with 0% fillers, and 100% nutrition.
Purina ONE® dry formulas are highly digestible and promote high nutrient absorption, so more nutrition goes to work inside your dog.
Around the end of the third week, look for clear, alert eyes and a healthy skin and coat, supported by the omega-6 fatty acids, vitamins & minerals provided by Purina ONE®.
By day 24, your dog's immune system is supported by a unique antioxidant blend of vitamins E & A and minerals zinc & selenium. By now you may already see positive changes in his whole body health, and the high quality-nutrition of Purina ONE® will help support your dog's immune system.
Crunch Kibble and calcium in every Purina ONE® formula helps support strong, healthy teeth and gums.  High-quality sources of protein, including real meat as the #1 ingredient, helps support all of your dog's muscles, including a healthy heart.  A natural source of glucosamine helps support your adult dog's healthy joints.
This is Tyson enjoying his dinner at around day 10 or so.  He loves to chow down!
I have to say, I am starting to notice many positive changes in Tyson throughout this 28 day challenge, and we have no regrets about making this switch for him.  He seems to love the taste of the food, and he eats it right up as soon as it hits his bowl.  His eyes seem bright and his coat and skin seem healthy too.  Again, I ask you, how can you resist his wrinkled little face?
You can find Purina One® in the dog food aisle of your local Walmart, in various sizes for your convenience.  It is crafted in Purina owned facilities in the United States. It's a complete and balanced dry dog food with 0% fillers and 100% nutrition.
We were switching our dog to Purina One® from another dog food, so we bought the Lamb and Rice, but you can also get the Turkey and Venison if your dog is trying the Purina One® for the first time.
Do you have champagne taste and a tiny budget too? 
 Love fashion, DIY, crafting, all things vintage and thrifty?  
Stick with me, I've got you covered!  
Sign up to get my posts delivered to your inbox here
Facebook / Twitter / Instagram / Pinterest / Bloglovin / Google + Stumbleupon
Shop My Amazon Storefront Here