Today I thought I would share a few things on my family's wish lists.
In case you didn't know, my husband is a local TV chief meteorologist at WBOY-TV. This is one thing he has asked for this year.
He has a running wish list on Amazon, so everything on his list is from there. Of course I love to shop so I always give him a few surprises. Here are some other things he likes.
He always wants a subscription to this magazine.
He loves Popeye. It is turning into an unwanted collection. Unwanted by me, that is! But I have to allow him some things!
My son Coleton, who is 12 years old wants some things like this.
He calls these man Uggs- Muggs!
He wants a new 26 inch mountain bike. We moved into his neighborhood recently, and all of the boys ride to each other's houses, so he will get a lot of use out of this come summer.
He is a runner, and this calendar has all of the races happening all over the country for 2013.
Our 4 year old son love trains. This is at the top of his list this year.
Thomas and friends diesel works set. Our house can barely hold another train or track. Uugh!
He loves play dough and plays with it all the time when it is warm out. At our house it is an outside toy.
And more trains. This is Emily.
My 16 year old daughter just loves clothes. I don't even know where to start when it comes to posting a wish list for her. This is her favorite store though:
http://www.forever21.com
She can always find something in there that she wants. It's usually fine by me because their prices are great!
She did ask for a black pea coat. She doesn't care where it is from.
She also asked for this eye shadow palette.
And as for me, I got an early Christmas gift this year. Here it is. This is about as fancy of a camera I can handle right now. I like it so far, although I have not taken the time to sit down and really figure it out. Maybe over Christmas break.
I saw a pair of diamond stud teardrop shaped earrings at Sam's Club when we were camera shopping one day, and it was love at first sight! Literally, they were meant to hang from my luscious lobes! They were just tiny diamond cluster in a perfect teardrop shape and were so sparkly. Bling bling! I think they might be under the tree for me on Christmas morning, but I am just guessing. I can't find a picture of them online, so this picture is as close as I can get, but these are costume jewelry, and don't look exactly the same But you'll get the idea!
I also asked for a pair of black or grey booties from my parents this year. These are super cute.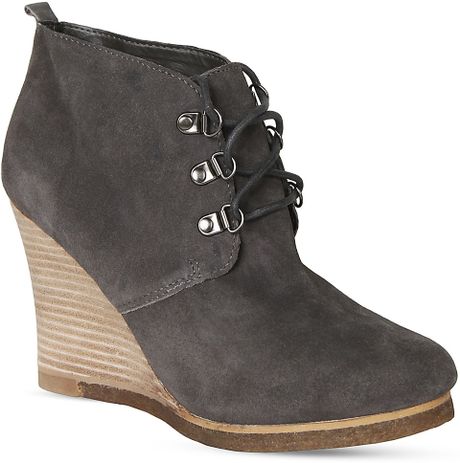 A fun gift to give this year would be something meaningful and from the heart. I am loving these photo canvases this year. There are tutorials all over blog land of how to DIY these, or you can go to several different websites to make one and order it. LOVE!
I hope you enjoyed seeing our wish lists. What is on your wish list this year?
As we speak, we are at the hospital with our 4 year old Gavin. He is having a little outpatient surgery this morning to have 4 cavities filled. I think he inherited my teeth. I hate that. Anyway, it is about an hour long procedure and should go very smoothly. But please say a prayer for our little guy. It always makes you a little nervous when they are being put to sleep.