Example Ad #1 (only visible for logged-in visitors)
I want to show you something that I have been using on a regular basis lately.  And I am in love with it!  So is LC by the way.  Some of you may know already, but we have a 9 lb. dog who pees on every carpet she can come into contact with.  It is super annoying, and it ruins our carpet.  I try to catch it and clean it up immediately, but after a little bit, our carpet starts to stink.  I shampoo it a couple of times a year, but that is the best I can do.  So I was constantly buying carpet powder, which really helps the odor.  But one day, through the magic of pinterest, I happened on  how to make your own for a fraction of the cost!  Fireworks!  Below is an image of the pin with a link back to the original source, the Happy Homemaker.  Well, happy homemaker, your recipe made me very happy!
It is so simple!  Just mix baking soda with several drops of any essential oil you want to with a whisk and put it in something you can sprinkle it on the carpet with.  Now, on the pin, people made some comments that I also utilized.  One was to also mix in 1 cup of Borax, this will kill any fleas or bugs that might be lurking around.  The other was to mix in some ground clove or nutmeg instead of the essential oil and that it will smell really good.  I have actually used Borax in the past when I was battling a flea problem with my dog.  My BFF has dogs and she says she uses it on a regular basis on her carpet.  I tried it, and it worked like a charm!  No  more fleas!  So off to the store I sent LC to get some essential oil, Borax, and Baking soda, the biggest boxes he could find.  The first time I made some I used the essential oil, and it smelled really good.  I think ours was lavender.  But it made the powder just a bit too clumpy.  So when it ran out, I used nutmeg for the next batch.  And it was perfect!  We usually sprinkle this on the carpet before we leave to go somewhere, put the dog in her crate,and when we get home we vacuum it up.  You would not believe what a difference this stuff makes in our home!  It is the best thing since sliced bread!  It smells so fresh and clean!  I have made 2 batches so far, and I still have plenty Borax and Baking soda for a few more batches!  What I did was to save a container of the Glade carpet powder when it was empty, and that is what I use.  I just keep refilling it.  Below are some pictures of what you will need.  But keep in mind the Glade is pictured just because I am using the empty container over and over again.
If you have pet odor problems, this is the stuff for you!  I cannot recommend it highly enough!  I will use this stuff forever.  I am really loving all of the ways you can  make home made things to use for cleaning around your house.  I have been trying some others out as well, I will be back soon with more reports of how they are working out.I am linking up here: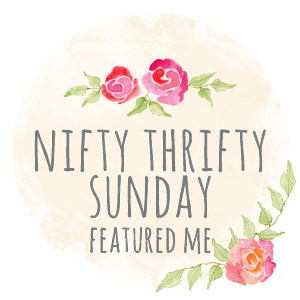 http://www.niftythriftythings.com/

Our Fifth House

Someday Crafts