As you already know if you read this blog regularly, I am working on my kitchen.  Have been since August, ugh!  So, I have this one little counter top area in my kitchen that houses the microwave.  I wish I had a microwave/range hood combination over my stove like I used to have, but alas, I do not.  I would love to get it off the counter top, but that will not be happening any time soon, if ever.  On this little area next to the microwave, I placed a cute little lamp that I purchased a few years ago at a  local shop.  It is a dark little corner and this lamp really helps the room feel more homey at night.  This kitchen is not very bright at night.  It bugs me.  I am the type of person who needs lots of light at night, especially in the kitchen.  And yes, I hang things on my fridge with magnets people.  And so do you, don't deny it!  I digress.  This lamp was looking a little monotone and blah, so I decided to stencil the lamp shade!  And I love the way it turned out!
Here is the lampshade before stencilling.  A simple burlap shade that I bought at Target.  I laid it out on some newspaper in front of the TV, to get a little DVR action while I worked.
All I needed for this project was some white acrylic craft paint, a sponge brush, the stencils, spray adhesive and a paper plate.  I bought the stencils at Walmart.  They were small, and several different ones came in a little booklet.  I chose to use two of the stencils.  One larger one, and then a smaller one to create a border on top and bottom.
I just squeezed some craft paint onto a paper plate, got some paint on the sponge brush, dabbed it so there was not too much paint on the brush, and then kind of dabbed it onto the stencil, which I had placed on the lamp with some spray adhesive.  I painted on three of the bigger design in the middle.  One right in the front of the shade, and one on each side.  I did not put one on the back where the seam was.  No one will ever see the back of this lampshade.  Then I painted the border on the top and bottom.  I did this all the way around the entire lampshade.  Here are some shots of the finished product.  This is difficult to photograph because, as I said, this is a dark corner, hence, the lamp.
This stencil looks great during the day when the light isn't on, but when you turn on the lamp at night, you really can't even see it.  Just barely.  But that does not bother me at all.  This is what it looks like at night.  Yes, I took these pictures when it was still starting to get dark by 5:15.  Thank goodness it is staying daylight now until around 7:00-7:30.  I feel so much more energy when it stays light longer, don't you?
This little project took me all of maybe an hour. and it was a big improvement in this little corner of the kitchen.  It was cheap and easy, and I can use the other stencils for other things too.  If you would like to see more of what is going on in my kitchen, please click here and here to see the latest.  Behind this microwave and lamp, there will be a faux painted backsplash eventually,  I am working on that now.  You can also visit my home tour page to see the rest of the house that I have photographed so far.  This kitchen is the closest room in the house to being called finished.  And I cannot wait for that day to come!
This lampshade was featured here!  
Linking up here:

Frugal Friday

Inspire Me Please

DIY Showoff

DIY Showoff

The Dedicated House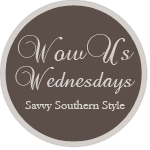 Wow Us Wednesdays

Before And After Party