Wow!  It is Monday once again, and this is going to be a particularly busy week for me.  I usually get off work at 3:05, but this week I work until 7:00 two nights.  Ugh!  Hopefully it will go by quickly.  I was hard at work over the weekend trying to wrap up a few projects and getting some housework done.  It is one of the first weekend in a while that we have not had a million things to do, and it felt so good to just spend some time at home.  New flash- My painted tile backsplash is done!  I plan to have the big reveal tomorrow instead of today, because I finished another project in the kitchen, and I want to show it off first!  I painted our kitchen door black!  It took me longer than I had planned because I thought I would need two coats, and I ended up needing three, but boy does it look great!  The very best thing about it is it will not show dirt!  I would love to paint every door in this house black at some point, but one thing at a time.  The next door on the agenda is out front door.  I will start by showing you the finished product.  It is difficult to get a great picture because there is so much light that pours in these windows during the day.  And, let's face it, I am not going to be winning any photography contests any time soon.  Here is the finished product!
Since we were painting the door, I went ahead and removed the door knob and spray it with Rustoleum satin nickel spray paint.  It took four coats as well.  It was in really bad shape.  An it looks so much better now.  Here is the before version.  I turned a box upside down, and I stuck the pointed end down into the box so that it would be propped upright.
Here is the door after it was prepped for painting.  I wiped it down really well, and I taped off the window panes.  The bottom is wider tape because I ran out of the other stuff.  Actually the wider tape was much easier to work with.  It was a nice sunny and warm day so the door stayed open all day long.
I used Behr Premium Plus  satin enamel in the color broadway.  I did not want the door to be too shiny, but I still wanted to be able to wipe it down.  This is one coat down.  I started by painting the trim around the windows.  I did all of this with a brush.  I just didn't feel like messing with pouring the paint into a pan and rolling it on for such a small area.
This is two coats down.
Again, two coats.
And this is after the third coat.
And this is the finished product after putting the painted doorknob back on.
Here are a couple of close ups of the painted doorknob.  I'll let you know how they hold up!  Nevertheless, it is a huge improvement, because they were nasty.  I would love to buy a new doorknob at some point.  But this will have to do for now.  I went with brushed nickel because that is what the knob on the front door is, and it is brand new.
Again with the light flooding in and messing up my picture.
Here is what it looks like at night. All of us keep thinking the door is open
when we walk by at night time. It just kinds of fades into the night, where the
white door stood out. Say hello to LC in the reflection cleaning up the dinner
dishes!
And here is a side by side of the before and after.
I think it is a huge improvement.  What do you think?  Stay tuned tomorrow for the big backsplash reveal!  I can't wait to show the whole thing to you!
Update:  I recently painted the outside of this door.  See the results, and a tutorial here.
I am linking up here:

The Dedicated House

Finding Home

Project Inspired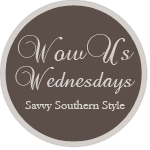 Wow Us Wednesdays

DIY Showoff

Thrifty Decor Chick