Hi, and welcome to another work week!  We have a very eventful weekend.  It was Miss 17 year Old's junior prom on Saturday night.  How fun are school dance's?  For a girl, they are some of the best times of your life, and when else in your lifetime do you get so many chances to play dress up?  Saturday was a bittersweet moment for me because next year my daughter will be a senior and I know it is quickly coming to an end.  Only three more fancy dresses- her senior homecoming, senior prom, and then someday her wedding gown.  It makes me sad.  But I love every minute of having a daughter to experience all of this with.  Are you ready for some picture overload?  If not, walk away from the screen.  But if you love to look at prom pictures, hopefully you are in for a treat!  I am just going to show you all of the gorgeous pictures I took.  I was having difficulty with my camera during this whole thing.  Go figure!  I could not get it to focus for several of the shots, bummer.  But I think I got plenty of good ones.  And her gown was To.  Die.  For.  It is one of the prettiest gown's I have ever seen, and I don't know how she is ever going to top this one.  Sit back and enjoy the show!  She was going for an old Hollywood, classy look, and I think she achieved it to perfection!
If you stuck around for all of those pictures, congratulations!  Ha!  I hope you don't mind that I shared today.  I think my daughter is the most beautiful girl in the whole world, so I cannot help from bragging just a little!  Have a great week!Update:
I constantly get emails asking me where I bought this dress, so I thought I would share.  This dress was purchased as a local boutique called Oliverio's Bridal.  And it was made by Sherry Hill.  It was the only dress like it in the store.  So, if you want to try to find this dress, do a search for Sherry Hill dresses, and good luck!
I am linking up here:

The Dedicated House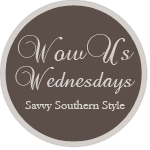 Savvy Southern Style