Happy Monday to you!  This is the last week of school for my kids, and I could not be happier about it!  Two more weeks for me and I am off for the summer!  It cannot come fast enough!  I made a little change in my kitchen that made it look so much better!  I painted this mirror that hangs on the wall.
Here is a picture of it before.  It was a dark red.  I have had this mirror for years, and it is a good quality.  When we moved here I hated to get rid of it because it is such good quality, so I brought it with me even though I knew I was over the look of the red.  Don't get me wrong, I love a pop of red, but there was nowhere in my house that I liked it.  So I hung it on the wall anyway, knowing that eventually I was going to change the color.  Well, after living here for 11 months, I finally got around to it a week or so ago.
All I did to prepare it for paint was to clean it, remove the little hooks,  and tape off the mirror.
I used the same white paint that I used on my trim and base boards in the kitchen.  It is Behr premium plus in crisp linen white- high gloss.  I did not want to buy any paint, so I used what I had.  I felt like a pop of white on this wall would be perfect.
And I love the way it looks now!  So much better!  LC thought it was a great improvement too!  It took me three coats to cover the dark red, but it was super easy!
If you would like to see the rest of my kitchen, you can click the following links.  Since moving in I have
painted the cabinets
and made a
painted subway tile backsplash
, and painted my
back door black
.  I still have a couple of more projects in this room before it is completely finished.  Please follow Sweet Parrish Place so that you can keep up with the progress!
Have a great week!  Come back tomorrow to see some of my favorite Trashtastic Tuesday projects!I am linking up here:

DIY Showoff
http://www.domestically-speaking.com/2013/06/181st-power-of-paint-party-popp.html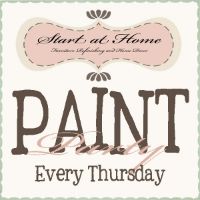 http://startathome.blogspot.com/2013/06/paint-party-and-giveaway.html