I can't believe it is 2013 already!  I hope everyone had a safe and happy new year.  I have been busy putting Christmas away and planning some goals for 2013.  I really don't make a resolution, but I do have plenty of things in mind that we need to do around here.  I made a list of my top 13 things I would like to have accomplished in this house by next year.  Take a gander!
Goal #1:  Stencil the green wall in my dining room
I have the stencil bought, I just have to get busy!  I want it to look something like this:  I posted about this a couple of days ago
here
.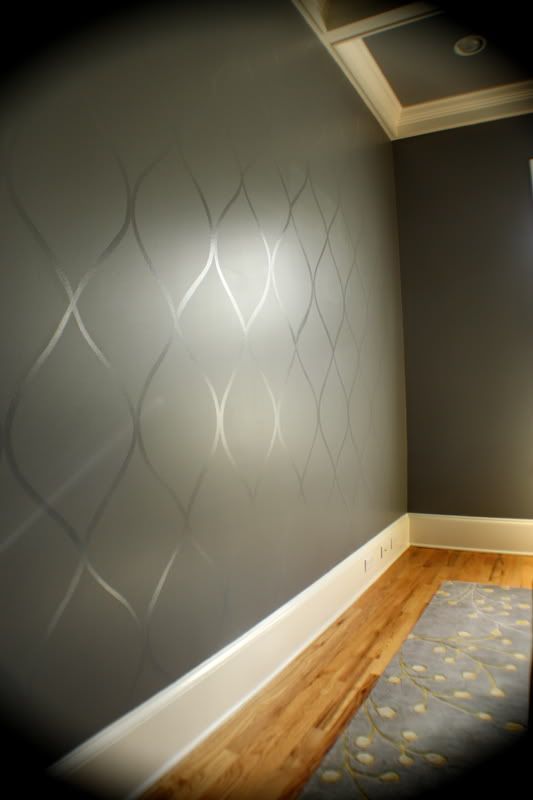 Goal #2:  And while we are on the dining room, I want to put some shelving, on the walls over my desk, something like this: 
I posted this
here
 a couple of days ago too.
My dining room serves double duty as an office as well.  Too see my entire dining room,
click here.
Goal #3:  Still on the dining room, after I stencil that green wall, I want to hang some artwork, kind of like a gallery wall of artwork. 
Click
here
to see where I bought the bird prints.  The two pictures below that contain framed botanical art, I bought at Goodwill.  I want to put all of this together on the wall somehow, I haven't quite figured that one out yet.  I may add some other odds and ends too.  There might be some spray paining of frames in my future.
These are real dried flowers and leaves, and they are even signed by someone.  They were like $1 each!
These look like someone painted them, and they are signed too.  I think I am going to change the mats to a darker color to make the prints pop a little more.
Goal #4:  I want to rip up the carpet and linoleum in my downstairs hallway and bathroom and replace the flooring.  I am considering doing something like this in the hallway:
I think it looks like leather.  But I won't try that in the bathroom.  I will probably go with tiles in the bathroom and laundry room closet.
Goal #5:  I want to paint my stair rail black, something like this: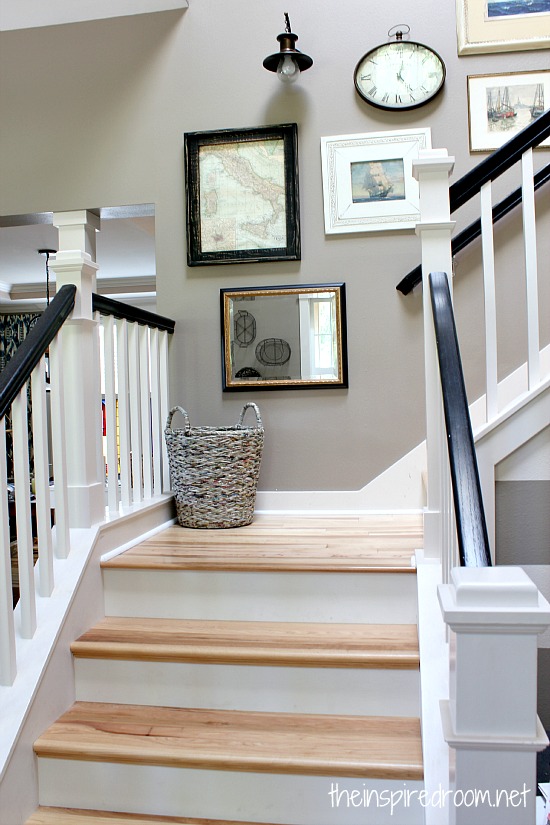 Goal #6:  And paint the interior front and back doors black, something like this:
               I might paint the doors in the hallway too.
Goal #7:  Paint kitchen backsplash to mimic subway tiles, something like this, except in white:
Goal #8:  Paint walls and ceiling in living room and hallway/foyer/stairwell, walls a color similar to this:
Benjamin Moore's Stone Harbor
Goal #9:  Paint walls in master bathroom.  To match my bedroom, which you can see more of here and here.
Right now it is a pale green, which isn't bad, but I want it to be the same colors at the bedroom below.
Goal #10:  Refinish this ugly green dresser.  I am thinking red, distressed, chalk paint or milk paint.
Goal 11:  Stain the back deck.  That is going to be a complete pain.  Here is the deck, it is two levels, the bottom one is much larger than the top one:
This is the upper portion.
This is the lower level.
Goal 12:  Hang Curtains and blinds in kitchen and living room.  Here are these windows right now:
See the complete kitchen
here.
This picture is from the real estate website, before we bought the house.  But I have not changed the window treatments.
Goal #13:  Install a mantel over the fireplace.  Here is what it looks like now:
Wow!  I hate it!
Well. what do you think?  Can I get it all done?  With the help of my handsome husband of course! He is not much into constantly working on projects.  That is all me, but I can usually persuade him to help me.  Afterwards, though, he always agrees that things are much improved.  But honestly, if it were up to him we would have just moved in and lived with it the way it was until we moved out. Only time will tell if we can accomplish it all!  I will keep you posted about the projects as we work on/finish them!
What are your goals for 2013?  I would love to here about them, or even share pictures of them on my blog!    If you complete a project that you feel is worthy of showing off, please send me the pictures!  I would love to share them.