Do you ever just sit around and daydream about what you would do in your own home if money were no object? If you are anything like me you do! We recently moved into a 1996 split level that needs a lot of updating. I could seriously go on all day about the things I would like to do up in this joint. But, we are on a limited budget for fixing up this house, and we have to do it one project at a time. That doesn't stop me from dreaming endlessly about what I would like to do, if money were no object. Of course, if money were no object I would be building my dream home at this very moment. So I just keep dreaming about the possibilities here, in the house we live in now. We don't plan to live in this house forever, but one thing I am sure of is when we sell it, we will leave it behind in a better state than it was when we moved in.
I thought it would be fun to share some of the things I would change in this house if money were no object. This is one of my favorite things to dream about. If you have been reading my blog, you know that we are currently refinishing our kitchen cabinets. We are hoping to be done with that by Thanksgiving, and then it is on to putting some color on the walls in the kitchen and dining room. Here are some things I wish we could afford.
First and foremost would be new kitchen counters.
These counters are honed Seagrass Limestone. I LOVE them! And I'll take the sink and subway tiles to go with them please! I got this image off of houzz.com. For some reason I had trouble getting a clear image. Here is another image of what the limestone looks like up close and personal.
I actually don't like the style of this kitchen nearly as well. Too contemporary for me, but I love the counter.
I would also love to have a new kitchen island.
I really like this one from Ikea, except I would probably want it in a different color. But I love the stainless steel open shelving on the one side and the seating area on the other. I also like the butcher block top. The island I have now is a stainless steel top, and it scratches way too easily with three children around. I found this image on
this blog
. You can see more pictures of it
here
.
The next thing on my list would be to replace the flooring right at the bottom of my stairs, which is also the entrance from the garage, the laundry room/closet, and my daughters bathroom.
I love this tile because it mimics hardwood flooring but would be great in an entryway or bathroom. You can find this image
here
.
The next thing I would LOVE to have is a new couch for our upstairs living room, which is where we hang out as a family.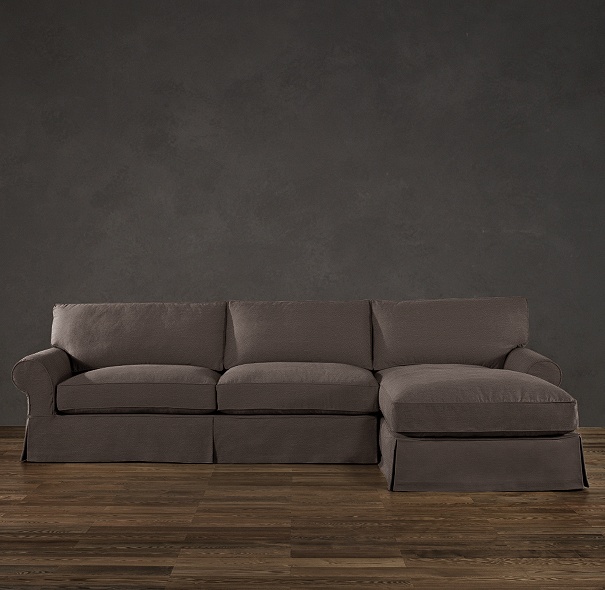 This is a down-feather chaise sectional from Restoration Hardware. It is vintage velvet fabric in charcoal, and it is my dream couch! I will probably never be able to afford it. But if I could have any piece of furniture it would be this for sure! You can find it
here
.
I would love a new bathroom console in our master bathroom. And this one looks just about perfect to me!
This sink console is from Pottery barn. You can find it
here
. I love everything about this, including the marble, and the mirrors with the little shelves.
The shower in our master bathroom is so tiny that I have to turn off the water to shave my legs. It is such a pain! If I could I would tear out that shower and the tub and put in something like this.
The only way I can imagine, with my bathroom layout, to make more room for a shower would be to take out the ugly shower stall and put in a shower like this in which there is only a thin glass barrier between the tub and the shower. And I love this! Ignore the fact that the finishes on the fixtures are different in the two above fixtures. Obviously I would match those up. I prefer the oil rubbed bronze actually, but I still love the sink from Pottery Barn. You can find this shower and soaking tub combination
here
.
Well, as I said, I could go on all evening with my wish list, but these are my top six (or seven or eight). After my kitchen cabinets and walls are finished, I plan to move on to the downstairs flooring. I haven't picked out the flooring, but you can see this area when you walk in the front door, and I desperately want to change it. We will probably end up going with laminate that looks like real wood. It is probably the most cost efficient and durable.
What have you been dreaming of doing to your home? And have you made any of those dreams a reality?