I hope you were able to enjoy your Holiday weekend!  I am off today and enjoying a lazy Monday morning. LC never has Memorial Day off, which sucks, so I usually spend the day doing housework.  I don't mind because I haven't done a stitch of laundry all weekend.  The ironic thing about being a blogger is that I don't get nearly as much housework done as I used to.  I am busy working on projects, and then blogging about them, and my general housework goes to crap!  The projects I would be probably be doing anyway, but it takes a lot of time to actually blog about them!  Before blogging, my house was a lot cleaner, but that's OK, because I am enjoying what I am doing.
Update: Come see the Deck Summer 2015
I have an amazing project to show you today that I did on Saturday.  This is my new favorite!  I am still madly in love with my painted backsplash, but my checkerboard deck is dreamy!  I have shown you my back deck recently here and here.  I have been planning this project for several weeks, and I was finally able to actually do it.  Here it is, completed.  This is the top level of our deck.
This is what the deck looked like before LC
power washed
it a few weeks ago.
This is the deck after it was power washed.
I snapped a couple of pictures to show you the progress.  This left corner is where I started.  I did two rows at a time.  I used a square box, and cut off one side of it to use as a guide.  I had originally planned to paint the deck using a stencil that was made by drawing the pattern onto the piece of cardboard,
like one of these
, but I am no artist, and when I attempted to draw it I knew it was not going to work, so I decided to go with something that had straight lines.
I used a pencil to draw my lines, then I took painters tape and taped off each square.  I actually taped off and then painted one square at a time.  that helped me to make sure that I was painting it correctly.  I DID NOT want to mess up, that would have been tragic, because the paint would not have come off easily.    If I would have taped of the whole thing before painting, I would have become confused and ended up making a mistake, because of the pattern.  I tore of the tape after I finished each two rows.
As you can see I painted my way right to the door.  And now, I am going to show you lots of pictures of the finished product.  Be warned!
As you can see, there are two awkward little corners to the right and left of the door.  After doing the first three rows or so, I worked my way down into these corners, because I needed to leave the area right in front of the door unpainted until the end.  I painted my way right back inside of the door.
Update:  I recently painted this door.  See the results here.
I am not going to lie.  This project was very physically exerting for me.  For one thing, it was a cool day.  when I started on it, it was cool, then it warmed up to where it was comfortable in the afternoon, but when evening came, the temperature dropped and it was windy.  I was really cold, and I was bent over all day, crouched down, on my knees, or sitting.  By the time I was finished I was actually shaky.  I went straight in and LC made me a nice cup of hot tea and I had a nice hot bath.  I was exhausted!  I do have to give LC some credit, he pulled up a lot of the tape for me, and he cleaned up for me after I was finished.  It is Monday morning as I am writing this, and my entire body is still sore from the project.  Don't tell me a DIYer gets no exercise!  I beg to differ!
I planted these flowers a week ago.  So far so good!
And here is a little side by side of the before and after for you.  I know how we all love a good before and after!  And this one does not disappoint!
The paint I used is called Valspar Severe Weather exterior paint in semi gloss white.  It is supposed to be durable in all types of extreme weather conditions.  This paint was actually left here by the previous owner's, and it was almost the entire gallon.  I still have enough left to repaint the banister's out front.  We think that is what they had used it on in the first place.  We looked it up online and it looks like an excellent paint to use for outdoor use, and especially for a project like this.  After I painted on Saturday, LC sprayed the entire deck down with Thompson's water sealer.  Warning:  it did not absorb into the painted areas, and he had to go out and wipe it off of each square.  But it was no big deal.  Now both levels of the deck have been power washed and sealed.  They should be good for another two years.  Today we are getting out the furniture that belongs on the lower deck.  And I have some chairs to make over for down there as well.  You can see the chairs I rescued from the roadside here.Even my kids think the deck looks awesome!  It is very pleasant to sit out there and just admire it.  I would still love to find a cafe table to put out here.  I would also love to paint a rug on the bottom deck, but I may hold off on that until next summer.  I only have 6 weeks off this year, and I think I already have myself booked with enough projects to last me!
The best part about this project was that it was FREE!  That is right people, this amazing project did not cost us a dime!  The paint was left here by the previous owner, the box I used for the stencil I picked up at work, and I had plenty of painter's tape left over from other projects.  We completely transformed the look of our worn and weathered deck for no money!  Isn't that awesome?  Enjoy your Memorial day!  I am going to be spending it doing laundry and coloring my hair.  If you have any questions about this project, feel free to ask me in the comment section and I would be glad to answer you.  I love comments!
I am linking up here:

Make It Pretty Monday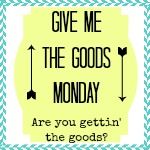 Rain on a Tin Roof

More The Merrier

Homemaker on a dime

Mod Mix Monday

Project Inspired

Outdoor Extravaganza

House On The Way

Pretty Things

All Things Pretty

Inspire Me

Frugal Friday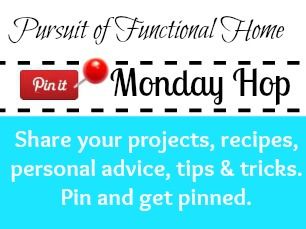 Monday Hop

Funky Junk

DIY Showoff

http://thriftydecorchick.blogspot.com/2013/06/june-before-and-after-party.html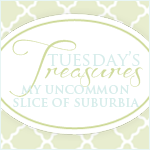 http://myuncommonsliceofsuburbia.com/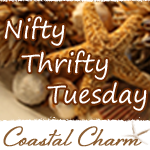 http://linda-coastalcharm.blogspot.com/2013/06/nifty-thrifty-tuesday-no166.html

DIY showcase
http://www.domestically-speaking.com/2013/06/181st-power-of-paint-party-popp.html
http://www.theshabbycreekcottage.com/2013/06/transformation-thursday-no-208.html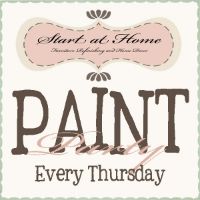 http://startathome.blogspot.com/2013/06/paint-party-and-giveaway.html

DIY Showoff

http://iheartorganizing.blogspot.com/2013/07/the-great-outdoors-lets-get-this-party.html