I was so busy in the past few weeks trying to get my brown paper floors done that I have not had the chance to work on any new projects for Trashtastic Tuesday, so this week I thought it would be fun to show you some vintage suitcases. Every time I see a cute one, I swoon! I have never seen one that I could afford, but if I ever do, it will be mine! I have a great selection of them to show you today! Here are 15 ways to use a vintage suitcase. Enjoy!
This one was painted with stripes. Love the colors and the way it was used on the shelves.
This one was turned into a little table for the end of a bed. It looks so great in this room!
These were repurposed into shelves! So creative and I love the look!
This one was made into an ottoman. I love the details!
This one was painted and decoupaged, and then made into a side table. The attention to detail is perfection.
These were not painted or repurposed. They were just stacked into an awesome focal point. And oh, the things that you could store in them!
I love how all three of these were painted white and stacked to make a side table.
This one is just sitting on top of another table, and I love the look of it.
And here is another one painted white and stacked on a side table. So serene looking.
Someone added yellow and white chevron fabric to this one. I want it!
This one was used at a wedding to hold all of the cards people brought. Great idea!
This one was painted and repurposed into a docking station! Why didn't I think of that?
And I love this side table
Another side table, and it might be my personal favorite. I love the color and the rope detail on it.
It looks like fabric was added to these as well. How adorable!
I love all of these vintage suitcases, and I hope you do too! Which is your favorite. Have you ever found a great vintage suitcase that you could not pass up? I am always on the look out for one, but have not been lucky enough to come across one that was affordable yet. But there is always hope, right?
Have a great Tuesday!
I am linking up here:

http://www.onemoretimeevents.com/2013/07/share-it-one-more-time-features-and.html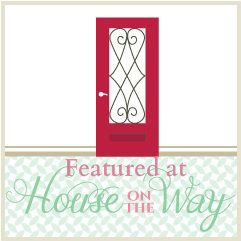 http://www.houseontheway.com/twirl-take-a-bow-party-49/