Welcome to Trashtastic Tuesday!  I am so glad you decided to join me today!  I have a very simple project I made for my downstairs hallway to show you today.  And I think it is pretty trashtastic, if I do say so myself.  This was super easy and super cheap.  I made it out of the lid of a shoe box.  Basically what I did was wrap it in wrapping paper!  I found this awesome yellow and grey wrapping paper at Marshall's a while back for something like $2.  I bought it knowing that I would find a use for it.  Well, yesterday I was looking for a quick and easy little project I could do to spruce up the ugliest hallway in the history of the world, so I decided to try to make a little piece of art to hang down there.  Here is how it turned out.  Let me preface by saying I meant that when I said this hallway is ugly.  It serves as a mudroom, and it also houses my laundry closet.  I have given you glimpses of it
here
and
here
.
To the left is the door that comes in from the garage.  I don't think it has ever been painted.  I have plans to paint every door in this hallways, which consists of three regular doors and the laundry closet doors.  Directly ahead is my laundry closet.
This is a good sized piece of art for this space.  And I love this pattern on the wrapping paper.  It is a very high quality and thick wrapping paper, and I am trying to figure out what else I can use it for!
Want to see the ugliness in all of it's glory?  And I am not talking about the magnets on the garage door that Mr. 5 Year Old loves to play with, as much of an eye sore as they are.  They don't bother me.  One day I will miss those magnets!  It is that God forsaken floor!  But guess what?  After living with this floor for 11 months, it is going to be replaced very soon.  My last day of school is June 18, and it is the first project I plan to tackle.
This is looking from the garage door into this area.  The flooring in Miss 17 Year Old's bathroom is also being replaced.  After the flooring is finished I am getting to work painting these walls, trim, and doors.  It is going to look brand new and completely different, and I cannot wait!  I am keeping this bench and shelf though.  I am going to find a way to spruce them up and make them look more expensive.
This is the little corner across from the bench.  That shelf is going to get a make over, and so are the two containers sitting on the floor.
I made the free printable a long while ago and framed it.  Can you see that I want to go with a yellow and gray theme in this area?  I am liking the two colors and need them in my home somehow.  We'll see how it goes.
But for now, while I am waiting until I have the time to do the floors, this little piece of wrapping paper, shoe box, trashtastic art will have to suffice.
Wait until you see what I have planned for these floors!  I will show you a glimpse of my plans one day before I start the actual work.  It will be one of the biggest projects I have ever taken on, and I cannot complete without a lot of help from LC.  He is on board though, because he hates the floors down here just as much as I do.  The worst part about them is that you can see them from the front door entrance.  They shout up at you when you walk in and say, "Welcome to the Parrish household, I am tacky linoleum laid on the diagonal for no apparent reason, and then I convert to ugly brown carpet.  Make yourself at home."  After looking at these floors for almost a year, I need some pretty  down there bad!
Update 8/09/14:  You can see an updated version of this entire hallway here.
What do you think of my little DIY wall art addition to this drab little space?  It looks a little bare right now, but when I am finished with it, this wall art will blend in perfectly!I am linking up here!

Love Bakes Good Cakes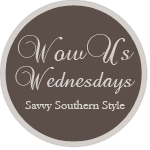 Wow Us Wednesdays

Pretty Things

House of Rose

Frugal Friday

Make It Pretty Monday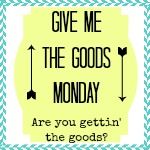 Rain On A Tin Roof