Welcome to my weekly series called Trashtastic Tuesday.  Each week I take something either free or from a thrift store and give it new life.  Occasionally I show off someone else's trashtastic treasures too, if I don't have something to share that week.  You can go to the page titled Trashtastic Tuesday to find all of my trashtastic projects if you would be interested in seeing them.  I would love for you to check some of them out!
Last week, we had a snow day, and I decided to knock out a few projects around here.  One of them was this gallery wall in my dining room/office.  I have been slowly transforming this dining room for several months now.  You can see more about my progress here, here, here and here.  I have had everything I hung in this gallery wall for a few months now, and have just never gotten around to actually hanging it all until now.  The reason I am categorizing it under trashtastic Tuesday  is because 4 of these items were purchased at The Goodwill.  Can you guess which ones?  I'll tell you in a little while, keep reading!  And if you want to know where I bought the other stuff, check that out here,
How did I decide how to lay out this gallery wall, you ask?  Well, I used a tip from another blogger,
Jennifer at Dimples and Tangles
.  She blogged about how she uses pic monkey to create her gallery walls and I thought I would give it a try.  I did exactly what she said, and it worked out for me!  I will use these tips again and again.  If you want to know how to do it, rush on over to her blog, Dimples and Tangles and check it out yourself!
Have you figured out what is from Goodwill yet?  I just love all of the colors on this wall!  The one thing missing in this room has been a bright punch of color.  Everything was seeming a little too monochromatic, and a lot of green.  Although there is green in the gallery wall, it no longer seems like too much with the other bright colors.
These framed pieces of art are the Goodwill items!  How many of you knew?
These too!
I am considering changing the mats on the fruit watercolors (at least they look like watercolors to me), what do you think?  And the others are actual dried flowers.  All of these are signed.  I considered changing the gold frames, but I am kind of digging them. I think they tie in nicely with some other gold things going on in the room, like the pencil sketch that I framed using a gold frame.   What do you think?
The bird canvases were purchased at Homegoods.
The plates were purchased at Pier One.  You can see where they used to be hanging here.  I was growing tired of them where they were, so I moved them.  I think they look great here.  They kind of tie all the colors together.
Here are a couple of far away shots of the dining room.
This room continues to be a work in progress, but it is coming along nicely.
I hope you enjoyed this week's Trashtastic Tuesday!  This wall may change eventually, or things may get added, we shall see.  But for right now, I am liking it a lot.  I can see this wall from my regular seat in the living room, and it makes me happy, and ready for spring!  Please join me next Tuesday to see what else I have up my sleeve that is Trashtastic!
I am linking up here today:

Frugal Friday

Inspire Me Please

Moonshine Monday

DIY Showoff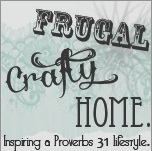 Frugal Crafty Home