Today's Trashtastic Tuesday is not about a Goodwill or thrifty transformation, but I am still counting it because all of the things pictures below I purchased at Goodwill. I stopped by Goodwill last week, which I usually do about once every week or two. I scored big time! But not in the home aisle, in the clothing and shoe aisles! I have never bought clothing or shoes at Goodwill before, but the shoes are to the right as you walk in, and they happened to catch my eye last week, so I walked over to get a better look. Low and behold, I found three pairs that were my size and looked brand new! They were $3.99 each. Score! I am certain it was probably the same woman who donated them all, and whoever you are, thanks! Next time, just drop them by my house and save me the trouble, and the $12 bucks, will ya? Ha! So, since scoring some awesome shoes, I decided it might be worth my while to check out the clothes, and I did find a couple of things that I ended up buying. Cheers for Goodwill! I did also look through the home aisles, not much on that day, but I did find a really expensive looking casserole dish for only $2. Here is my loot!
Ann Taylor Skirt
New York and Co. blazer
Franco Sarto red patent leather wedges
Naturalizer neutral pumps
Aerosoles grey sling backs
This is the casserole dish. I am currently using it as a catch all on top of the microwave in the kitchen. To keep junk at bay until I can sort through it. And if I want to use it for baking, I just wash it and go!
Don't you think $2 is a total steal for this dish? And it looks so much cuter in my kitchen than the basket I was previously using for the same purpose.
I would love it if you would visit my
Trashtastic Tuesday page
and check out all of my previous projects and thrifty finds! And you can also check out my other
DIY projects around my home
. Something new I have recently added to my blog is
What I Wore Wednesday's
. I have participated in the WIWW link party for three weeks now, and plan on continuing, so I will be adding to this every Wednesday.
I hope you enjoyed Trashtastic Tuesday, and if you have any projects that you think are worthy of being Trashtastic, I would love to see them! You can follow me on facebook, instagram, and pinterest in the right hand column of this page. I would also love it if you would be so kind as to follow my blog, There are a few ways you can do that as well in the right hand column. You can subscribe through email (if you do, you must confirm through your email), you can sign up under Networked Blogs, Bloglovin, Google +, Or Linky Followers, all can be found in my sidebar! Have a good one!
I am linking up here: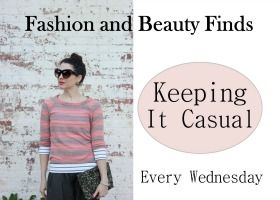 Fashion And Beauty Finds