Welcome to Trashtastic Tuesday!  I am having a great spring break so far, how about you?  Are you or your kids on spring break this week?  We aren't doing anything special, but I am puttering around the house, doing some spring cleaning, organizing, closet changing, and finishing up some projects.  It has been amazing so far because I never have time for these things.  Don't worry, I do have some fun family time planned for later in the week.  I have a fabulous Trashtastic Tuesday project for you this week!  Last week, I painted inside a mason jar.  I have several things lying around that I bought at Goodwill to make over, and I vowed to myself NOT to visit Goodwill again until I had repurposed everything I had already bought.  LC is going to KILL me if I keep bringing junk home!  This week, I repurposed a bamboo tray and used it in my master bathroom as earring storage- GENIUS!!  I am in love with it.  For the longest time I have had this tray, and could not figure out what I wanted to use it for.  I thought of just using it as a tray to hold papers on our desk, but it didn't quite fit.  I couldn't put anything too heavy in it because the bottom is kind of fragile.  Then I though of using it like a bulletin board.  Then today while I was watching the paint dry, it hit me! Earrings!  Here it is.  I will show you the before picture at the end.
I don't have it filled with earrings yet, but fear  not, I will soon!  I just threw this up here so I could write this post.
This is the tray after I finished spray painting it.  I used glossy white Krylon spray paint that had built in primer.
This took about four light coats on each side.  I did the back yesterday and the front today.
Is it not the cutest earring storage?  I just love it so much!
Ignore that towel rack.  When we paint this room, it is being removed.  As you can see, I have my necklaces hanging right above.
The black cabinet was purchased at Marshall's.  It holds our bath towels.  You can see in the reflection in the mirror that I have towels lying in a pile on the floor, oops!  I had just finished cleaning the bathroom, and those are the rags I used.  Ha!
Thought you might want to see inside of this cabinet.  I keep hair towels and bath mats on the top shelf, and bath towels on the bottom.  Right now it is empty because they are all in the laundry.  It will be filled to the brim in a few hours.
And here is the before picture of this bamboo tray.  I paid $1.99 for this at Goodwill. Such an improvement, right?  So far I have used all of this stuff except the horse.  I haven't figured that one out yet, any ideas?
If you would like to check out all of my Trashtastic Tuesday projects, click here.  I would love for you to check them out!  Now, I am going to go eat dinner, and then work on my backsplash some more.  That is the one project I want to finish this week, I can't wait to show you the rest of it!  Have a great evening!
I am linking up here: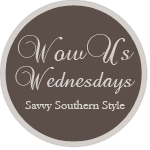 Wow Us Wednesdays

DIY Showoff

Finding Home

Inspire Me Please Linky Party

Thrifty Decor Chick