What could possibly be more Trashtastic than a tin can?  I mean, seriously, how many of these go into the garbage or to (hopefully) be recycled over the course of a week?  It is darn cold around here right now, and we eat a lot of soup when it is cold.  So I thought using a couple of old soup cans as art was a fun idea for a Trashtastic Tuesday project.  I gave you a little sneak peek of my idea I was cooking up last week here.
I was wondering how many different ways one could take an old soup can and make it into something cute?  I thought a lot about that this week, because I had two cans sitting in my dish drainer awaiting a transformation.
So, now I know there are at least 100 tin can ideas floating around out there!  Fun!  I wasn't sure what to do with these tin cans or how I was going to use them.  So yesterday was the day.  I had to get it done.  Should I paint them?  Should I cover them in craft paper? I pondered and pondered.  I finally decided to go with what I had laying around.  I decided to wrap them in jute!  I have done this with a couple of other items and was happy with the results, and I had jute left over from those two projects.  BAM!  I had a plan for my Trashtastic Tuesday post for this week!  I broke out my leftover jute, and my hot glue gun and got to wrapping.  I just stuck a dot of hot glue in one spot for eah time I wrapped around one time, and all of the little dots of hot glue are in a row, so you just face that side towards the back, although it is barely noticeable.  Here are my tin cans!  Aren't they so cute?  It was Trashtastic Love at first sight!
I wrapped one ring of jute right around the inside lip, since that was a little sharp.  Now no one is going to cut their finger.
You can use them for office supplies.
Or as a vase
At the moment here is where my jute wrapped tin cans have found a spot, right here on my desk.  And if you look closely there is a sneek peek at something new I did in this picture.
Well, I am off again today for another snow day.  Nice little four day weekend.  I am not complaining!  I got around to painting the trim in my dining room/office yesterday.  You can see my progress in that room here.  I don't have any pictures of the completed trim just yet, but it is fresh and white and clean now.
Stay tuned to my blog this week!  I got my craft on up in this joint over the weekend, so I have some fun things to show off!
I am Linking up here today!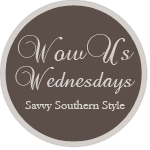 http://www.savvysouthernstyle.net/2013/02/wow-us-wednesdays-104.html


Simply Designing

Countdown To Spring

Before And After Party