It is a rainy Friday here, but since it's Friday, I'll take it!  Today I want to show you Miss 17 Year Old' vanity transformation.  This is something that she did all by herself, over spring break!  She has been wanting to paint this vanity ever since we moved in June, and she finally had time to do it last week.  If you would like to see the tour of her bedroom, that is still in the progress stage, click here.
In case this is your first time visiting my blog, my daughter has a little problem.  she is a total pig!  She is not very organized.  Her room is usually so messy that you can barely walk into it, and I refuse to clean it for her.    this vanity was originally bought at Target.  and it is solid wood, but not very well made from the start.  First off, the mirror does not want to stay attached.  Secondly, the knobs, which were cute, broke off.  thirdly, the stool that came with it is very shoddy.  I cannot tell you how many times one of the legs have broken and it has had to be repaired.  The stool was reupholstered by her grandma when we moved into the house, so the fabric on it is not original.  Anyway, this was a creamy white.  Well, my daughter loves make up, and it was filthy and stained.  This is the way it looks after paint.
I know there are crazy cords everywhere around this vanity table, hopefully this is something we will be able to fix soon.  Work in progress, remember?
This is the vanity table before paint.
How did she paint this, you ask?  It was fairly simple. She removed the mirror.  I am a huge fan of
Young House Love
, and they have a great project page, with tutorials for how to do everything DIY.  I always go to that page if I want to do something.  That is the first place I looked for how to go about painting this vanity.  First she clean it good.  Next she used a deglosser on it.  I did not follow the Young House Love tutorial word for word.  We used Valspar Signature paint and primer that is all in one, in a semi-gloss.  The color is beach sparkle- cute name!  Anyway, we decided to forgo the primer by using paint and primer in one.  She did two coats of that, using a small foam roller on the larger areas, and a small brush on the legs.  Next, she applied one coat of Minwax Water-Based Polycrylic Protective Finish in "Clear Gloss" .  YHL suggested two coats, but we decided to go with one.
Notice the hand towel on top of the vanity.  I bought a couple of these for her to protect the top from her makeup.  I figured I could just easily wash these when I do laundry and maybe her vanity won't be so gross.
  If you look closely in the mirror, you can see a glimpse of the pigsty that is her bedroom.
I bought the cute little buckets at Target in the $1 aisle.  You can write on them with dry erase markers!  She is using them for her makeup brushes, her manicure tools, and bobby pins.
This is a close up of some of the detailing on the vanity.
All of the cords that are visible make me bonkers!
And lastly, here is a before and after of her newly painted vanity.  Hopefully it will stay in good shape for a while!  I also bought her a couple of clear acrylic dividers for the drawer, and some fun wrapping paper to line it with.  But I forgot to take a picture of that!  I promise to take one and update this post tonight as well.
I love this pop of color in her bedroom!  It reminds me of Tiffany blue, and I love that color!  I think it is the perfect little pop!  My daughter loves hair, makeup, and fashion.  she plans to major in Fashion merchandising in college.  Among her group of friends she is the one who fixes everyone's hair and does everyone's makeup.  Tomorrow is her prom, and I am sure at least two of her friends will be at her house getting their hair or makeup done!  Good times!  And she will get some good use out of her newly painted vanity too!
Have a great weekend everyone!Update- Here is the inside of the vanity drawer, as promised!
I am linking up here:

Miss Mustard Seed

Shabby Creek Cottage

DIY Showoff

The Dedicated House

Finding Home

Setting For Four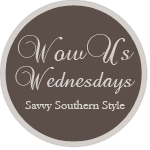 http://www.savvysouthernstyle.net/2013/04/wow-us-wednesdays-114.html

Inspire Me Please

Thrifty Decor Chick