Hey all! Today's post is just a random selection of things that I am currently loving. I try to write one of these posts a couple of Monday's per month. I thought it would be just a fun way to share things that I love. It's kind of like chatting with a friend, my friends and I are always sharing things we love with each other, and that is what I want to do with this post. Share things that I love, because you never know, you just might love them too! And if you have anything you love that you would like to share with me, bring it on in the comments! Here we go!
I received a free bottle of this serum to try, and I love it! I am totally hooked on the way it makes my skin feel. It has such a silky feel, and goes on so smoothly, it is a pleasure to apply to my skin. I have noticed an improvement in the look and feel of my skin, and I have been using it for a couple of months now. It has a great price point, at only !$13.95, and you can get it at Amazon. There is a link below if you want to read more about it, or order it!
If you like pumpkin flavored stuff, and you like greek yogurt, you will love this Chobani pumpkin spice blended yogurt. Get it while you can, it is a limited batch.
I have been seeing so many fabulous Christmas pillows around all over the place lately, and here are a few that I have bought. The plaid one and the Merry one are from Marshalls, and the Noel one is from Target Dollar Spot. The one with the black bear is a Goodwill find. It actually came as a set of two pillow cases. They are fleece and are buffalo plaid on the back- too cute! I put them on my bed to take a picture of them, but they will be in my living room when I decorate for Christmas. #givemeallthepillows
These large cable knit blankets are to die for! And this one is gorgeous!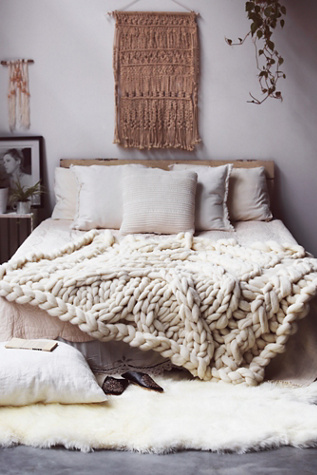 Source (currently sold out)
Last, but certainly not least, I was wandering around KMart while waiting for a prescription, and I decided to check out their Christmas décor, and I came across this decoration in the Christmas Village items. It's called Christmas Tree Transport. It's part of the Coventry Cove set by Lemax. I think it is adorable, and they had some other really cute one's too, like a retro looking camper all decorated for Christmas.
Here's the camper, how cute is that?
And that's a wrap for What I'm loving right now! I hope you like it! I thought it would be a fun way to bring you some cool stuff. do you have something that you are loving right now that you want to share with me, or that you think I will like? If so, tell me about it in the comments, I love trying new things! Have a great week!
Do you have champagne taste and a tiny budget like me? Love fashion, DIY, crafting, all things vintage and thrifty? Stick with me, I've got you covered!
Sign up to get my posts delivered to your inbox here
Follow me here:
This is where I party:
Monday: