It's Thursday!  That means one more day until Friday, right?  Can you give me a woot woot?  We have a BIG weekend coming up.  It is Miss 17 Year Old's Junior Prom!  So get prepared for some picture overload of that next week.  Her gown is TO DIE FOR!  So gorgeous!  I can't wait to show it off to you!  So you will be seeing that next week.  In case you did not know, last week, I was off for the week of spring break.  And I got busy around here.  I have been working on this faux subway tile painted backsplash in my kitchen for what seems like forevah!  I broke it down into sections.  Before spring break, I had two sections already completed.  I showed you a sneak peek here.  It was even featured one week over at Savvy Southern Style on Wow Us Wednesday!  I was so thrilled about that!  I felt like a very big deal, for about 2 seconds anyway.
So, over spring break, I was able to complete the two largest sections, which were behind the sink and the rest of the way down the wall.  There is only one section left, and it is a very small section behind the microwave, that I can easily complete on the next free day I have.  This will be the last post about my progress with this technique, and the next post will be the big reveal.  I promise, I am going to clean and make it pretty for pictures, and everything.  In these pictures it is a disaster.  Work zone!  I cleaned it up just a tad for a couple of these shots, but other than that, it is bad.
This is the section I cleaned up a little.
You can see here that everything is taped off and ready for paint.  You have to do the taping off in two phases.  First the horizontal lines, then the vertical.  In this photo, I have the vertical taped off to the left and the horizontal to the right.  And look, It was a battle of the painter's tape!  Frog tape versus Blue painter's tape with edge lock.  Who do you think won?  I promise to let you know when I do the full tutorial, someday.  BTW,
I painted our kitchen cabinets back in the fall
.
If you look closely, you can see on that far right cabinet, right near the handle, there is a place that the paint got scraped off.  I need to touch that up.
This is the largest area, above the sink.  It took the longest.
I started clear at the far left with this project.  We joked on Sunday that it looked like someone had dies around our kitchen.  It had been my daughter's birthday, and her BFF made her a bunch of cupcakes.  My son brought home brownies that he made with his ma maw, and a friend brought over pepperoni rolls and cookies.  Hence, the food you see sitting on the counter and stove.  YUM!
You cannot see that cord in the below picture when you are actually standing in the kitchen.  Only the part that plugs in.
This is a better view of what you actually can see of the cord.
This is the entire backsplash on this side of the kitchen.  Well, as close as I could get to it, it was dinner time and LC was making spaghetti.  I was taking pictures around him.
These are the last shots for today.  I wanted to show you a close up of where the backsplash  meets the wall.  You can see that the paint I used for the grout lines is the exact same paint I used on that wall.  You can also see that there are a few touch ups needed.  I will touch it all up when it is complete.
Overall, I am extremely happy with the results!  It looks awesome!  Everyone who comes to the house raves about it.  We even had a professional painter here to give us an estimate (to paint out living room and stairwell), and he said I should be a professional!  After this project is completed, the only other things I need to do in the kitchen are paint the door, and paint the island.  I have to say, this kitchen is finally starting to come together, and it feels like "my home", instead of just a house we moved into.  And that, is a very good thing!I am linking up here:

Inspire Me Please

Shabby Creek Cottage

It's Overflowing

DIY Showoff

The Dedicated House

Finding Home

settingforfour

Suburbs Mama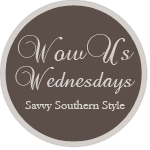 Savvy Southern Style